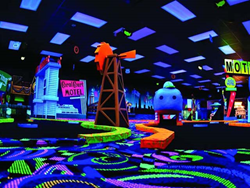 Bounce Town is an 8,000-square foot area that includes 7 large inflatables and a toddler play zone made for children less than 40" inches tall.
Warr Acres, Okla. (PRWEB) January 13, 2017
Friday, January 13 at 5 pm, America's Incredible Pizza Company unveils an expansion that doubles the area of the game room, increasing the size of the location to 90,000 square feet.
Included in the expansion is the new Route 66 Glow-in-the-Dark Golf Course, an 8-hole mini golf course that takes customers on an educational tour of the historic route, with each hole in the course representing one of the states along the America's highway. The experience is kicked off by an interactive Abe Lincoln statue at the first hole that explains the upcoming tour.
An amusement park favorite, The Scrambler, was also part of the addition. This classic attraction launches 24 people in 12 spinning cars. The go-kart track is now a larger, Grand Prix style track with a dogleg and six additional karts per race. The game room also received 30 additional video and prize games with the remodel.
Of particular interest is the addition of Bounce Town, an 8,000-square foot section that includes 7 large inflatables and a toddler play area made for children less than 40" inches tall. Toddler Zone consists of a variety of soft play objects and visually interesting items and age-appropriate activities, including toddler-safe merry go rounds.
Incredible Pizza VP of Marketing, Tim Hershberger, says the company is "excited to be adding Bounce Town to our Warr Acres store. It's a place for children to exercise, burn off energy, and jump to their heart's content."
As always, there are four themed rooms to choose from when dining: a 50s-era family room with nostalgic TV shows playing, 50s-era diner with music, a drive-in themed room that plays family-friendly movies, and a gymnasium that plays modern family-friendly shows or the latest game.
Incredible Pizza offers a buffet full of variety, more than the pizza and pasta their name might imply. Other offerings include chicken pot pie, fried rice, chicken nuggets, and a taco and nacho bar. They also offer gluten free pizza, healthy pizza options, and full salad and dessert bars.
Home to six fully-owned Family Entertainment Centers and four franchisees, America's Incredible Pizza is smoke and alcohol free and offers seating for hundreds of people. Since their humble beginnings, their priority has been to provide guests with exceptional food, thrilling games, and fun-filled memories for a lifetime. They offer an all-you-can-eat buffet and a variety of attractions, including laser tag, go-karts, and bumper cars. The game room also holds over 100 video and prize games. To learn more, visit warracresincrediblepizza.com.