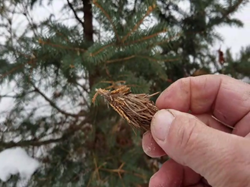 Each of these destructive insects can cause irreparable damage, and cost thousands of dollars to any unsuspecting homeowner.
Huntingdon Valley, PA (PRWEB) January 23, 2017
Destructive insects like Borers, Bagworms and Adelgid have invaded the Philadelphia region and Giroud Tree and Lawn explains why each of these insects is dangerous, identifies the warning signs that homeowners and property managers should look for and details options for controlling these invasive pests.
"Homeowners, especially inexperienced or young ones, don't necessarily know the dangers that destructive insects pose to trees and shrubs. Unfortunately, insect damage can be hard for the untrained eye to see. As a result, the damage often goes unnoticed and untreated until it's too late. That's why, regular property inspections by an ISA Certified Arborist are so important," says ISA Certified Arborist and Giroud Tree and Lawn President, Lou Giroud.
Infestations of Adelgid, Bagworms and Borers pose a significant risk:
Bagworms - Bagworms are active almost all year round, building egg sacks which contain approximately 500 eggs each which then hatch. The larva then eat the foliage on the host tree, causing it to perish. While bagworms can be removed by hand, treatment is required for large infestations.
Adelgid - Adelgid hides under the branches of its host, making it hard to spot at times. Anyone worried about infestation should look under the branches of their Hemlock, Spruce, or other conifer to see if any eggs or insects are visible. In fact, the Pennsylvania State Tree, the Eastern Hemlock, is being threatened into extinction due to the widespread geographical migration of the Hemlock Wooly Adelgid. This pest is deadly but controllable with treatment.
Boring Beetle - Boring beetles lay their eggs on a wide variety of trees. In particular, Emerald Ash Borers is the most deadly member of Borer family. Populations are exploding in the Pennsylvania and New Jersey areas right now. Once the eggs hatch, they feed on the wood under the bark, causing the tree to die without many visible signs of weakness. A100% fatal pest, Emerald Ash Borer can be controlled with systemic trunk injections every two years.
Each insect is lethal to their host trees, with different species affecting a different number of trees. For those interested in getting a free consultation, visit Giroud Tree and Lawn's website or call them at 215-682-7704.
About Giroud Tree and Lawn
Giroud Tree and Lawn specializes in tree service, tree removal and lawn care programs that make customers love doing business with the company since 1974. Serving Bucks, Montgomery and Philadelphia Counties, the company offers professional tree and lawn evaluation, tree pruning, tree removal, insect and disease control, fertilizing, stump removal and traditional and 100% organic lawn programs to keep lawns healthy and green. Giroud Arborists are certified by the International Society of Arboriculture (ISA) and have the knowledge and experience required to properly diagnose, treat and maintain trees and lawn health. The company is Accredited by the Better Business Bureau and has been awarded the Angie's List Super Service Award® every year since 2005. The "Giroud Treework for Charity" program donates free tree care services to parks, historical sites and other non-profit organizations located in the Company's service area. For more information, visit the company website at http://www.giroudtree.com or call 215-682-7704.