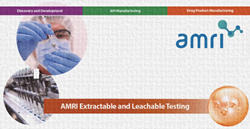 Extractable & Leachable evaluations have become increasingly more vital to successful product development and regulatory submissions.
Whitehouse, NJ (PRWEB) January 18, 2017
Whitehouse Labs has furthered its efforts towards gaining access to more and more E&L expertise. Within Albany Molecular Research, Inc. (AMRI), the scientific staff dedicated to Extractables / Leachables & Impurities has more than doubled in the past year and is planned for further growth in 2017. Extractable & Leachable evaluations have become increasingly more vital to successful product development and regulatory submissions. To meet this increased demand, along with added personnel, critical instrumentation has been added to the E&L group. Moreover, additional instruments have been identified to further develop novel solutions in meeting customers' E&L needs. Most importantly, AMRI has assembled industry leading experts to be a resource to our global customers trying to navigate the evolution of Extractables & Leachables expectations. Many of these experts, which include material scientists, analytical chemists, biomedical engineers, toxicologists, and biocompatibility specialists, often educate regulators and participate in developing the standards or guidelines related to this multidisciplinary science known as Extractables & Leachables.
Recently, many E/L and chemical characterization guidelines, as well as standards, have been revised to better address patient safety considerations in the pharma/biotech and medical device industries. These heightened requirements necessitate manufacturers to seek out experts who are aware of the industry trends and changes in the regulatory landscape for medical device evaluations and container qualification for final fill, intermediate storage, and manufacturing systems. Whitehouse Labs, as a subsidiary of AMRI, understands the strategic vision needed to compliment the spectrum of services already offered to our customers, including but not limited to: drug discovery, chemical development, analytical services, small and large scale API and drug product GMP manufacturing, product stability testing, drug delivery device safety testing, container closure integrity, packaging validations, etc. Please contact us at Whitehouse labs to better understand how we can guide you through the process in meeting your Extractables & Leachables needs.
Whitehouse Labs, a division of AMRI, offers comprehensive analytical services providing support for manufacturing from development to market. From analytical chemistry and material qualification to packaging optimization, Whitehouse Labs is the testing partner for the world's leading pharmaceutical, biotechnology, medical device, life sciences and consumer products organizations.