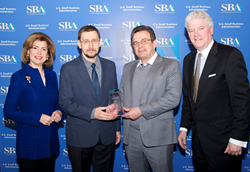 The Tibbetts Award honors the best of the best from the thousands of firms that participate in the SBIR/STTR program
Morrisville, NC (PRWEB) January 16, 2017
Attagene, a Research Triangle Park-based life science company, received the prestigious Tibbetts Award from the U.S. Small Business Administration. The Tibbetts Award honors the Small Business Innovation Research (SBIR) program participants "that have created a significant economic or social impact […] and are considered the best of the best from the thousands of firms that currently participate in the program". 
Attagene has invented, constructed, and commercialized a first of a kind platform technology (the FACTORIAL™) that enables high-content assessment of gene regulatory pathways in human and animal cells. Attagene uses this platform as a powerful new tool for drug discovery and development and for assessing the safety of environmental chemicals, natural products, and drinking water.
Attagene was founded in 2001 by Dr. Sergei Makarov, then Associate Professor at UNC-Chapel Hill. In 2004, the company received two SBIR grants from the National Cancer Institute that provided early funding for the proof-of-concept study and prototype development. The SBIR grants fostered the follow-up funding by the government regulatory agencies, NIH, and biopharmaceutical industry.
"We consider this prestigious award as recognition of our long-term efforts in developing innovative tools for drug discovery and development and toxicity testing," said Dr. Sergei Makarov, President and CEO of Attagene. "These tools help to eliminate unsafe drug candidates at the earliest stage, thereby reducing drug development costs and minimizing the risk of drug failure at the clinical and post-marketing stages", Makarov said. "Our technology also provides radically new solutions for toxicity testing, bringing about a cleaner and safer environment.
Attagene's animal-free test systems enable comprehensive assessments of the safety of environmental chemicals, consumer products, and drinking water. Attagene technology has become an integral part of the U.S. EPA ToxCast program that develops new approaches for environmental toxicity testing. In 2010, Attagene evaluated the safety of oil dispersants used for cleaning the Deepwater Horizon oil spill in the Gulf of Mexico.
The company provides research services to biopharmaceutical industry and government regulatory agencies, such as the U.S. EPA, NICEATM NIEHS, and the U.S. Geological Survey.