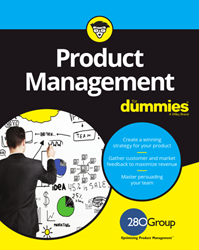 "The Product Management for Dummies book teaches Product Managers the core skills to do their jobs…" said Brian Lawley, author and CEO of the 280 Group "…it is the first Product Management book that every Product Manager should buy and read."
Los Gatos, CA (PRWEB) January 18, 2017
Product Management for Dummies is now available at bookstores and online at Amazon.com, Barnes and Noble and other resellers. The book was written by author, thought leader, and CEO and founder of the 280 Group, Brian Lawley, and the Director of Products and Services at the 280 Group, Pamela Schure. This new book is a uniquely comprehensive guide to the field of Product Management. Topics covered include conceiving and prioritizing new product ideas, voice of the customer, market research, competitive analysis, working more effectively with engineering teams, becoming a product leader, product launches, beta programs and product retirement.
"The Product Management for Dummies book teaches Product Managers the core skills to do their jobs…" said Brian Lawley, author and CEO of the 280 Group "…it is the first Product Management book that every Product Manager should buy and read."
Not only will readers learn valuable insights from the book, they will be able to use a special coupon code to download the 280 Group's Product Management Lifecycle Toolkit™ at no cost (a $99 value). Featured in the Introduction section of the book is a URL to visit and a coupon code to enter in order to download the toolkit which includes templates, frameworks, and more to save Product Managers considerable time, effort, and resources.
"If you are a product manager or want to be a product manager, you quickly find the job requires both broad and deep knowledge in a variety of business areas. This book brilliantly arranges the topics and provides a wealth of information in a way that makes this a must have in your library," said Therese Padilla, President of the Association of International Product Marketing and Management.
Product Management for Dummies is available now for the suggested retail price of $26.99 and is also available for Amazon Kindle.