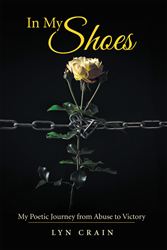 Lawrenceville, N.J. (PRWEB) January 16, 2017
Hoping to inspire those who suffer from domestic violence, Lyn Crain has released her new book called "In My Shoes," a collection of poems that depict the experience of a domestic violence victim, and eventually, survivor.
"In My Shoes" takes readers through a vivid picture of the beginnings of an abusive relationship, the mental struggles that plague victims of abuse, and the thoughts of passive onlookers. It offers a story of darkness and suffering that ends in hope and recovery.
Through "confessional poetry," Crain feels she has been able to speak her truth. "When you cease to be at peace with your thoughts, you write. That's how I ended up writing this book," says Crain. "Not only does it feel good to talk about it, but I hope sharing my story helps other victims break free."
Crain hopes that by reading "In My Shoes," people feel encouraged to speak up for others when they can't speak up for themselves. "Silence enables the abuser to keep doing this to the family member. If you see something, please say something. You could be saving a life."
"In My Shoes"
By Lyn Crain
ISBN: 978-1-4834-5466-5 (paperback); 978-1-4834-5464-1 (hardback); 978-1-4834-5465-8 (eBook)
Available at the Lulu website and Amazon
About the author
Lyn Crain is a New Jersey-based author who uses confessional poetry to chronicle her journey through cancer and abuse. Her poetry is written from her experience and heart, and can be titillating or terrifying in a world that is often more black than white. To learn more about Ms. Crain, visit her website at http://www.lyncrainpoet.com. You can also find her on Twitter and WordPress.
###
Review Copies & Interview Requests:
LAVIDGE – Phoenix
Bryan Beach
480-998-2600 x 510
bbeach(at)lavidge(dot)com
General Inquiries:
LAVIDGE – Phoenix
Kalin Batts
480-998-2600 x 524
kbatts(at)lavidge(dot)com