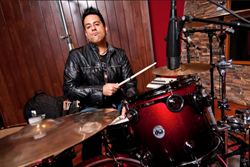 I hope it helps people effectively and efficiently achieve their dream of being a professional, working drummer." - Rich Redmond
Los Angeles, CA (PRWEB) January 13, 2017
Rich Redmond, renowned drummer, author, and motivational speaker is proud to announce the launch of his educational video series, Drumming in the Modern World.
Drumming in the Modern World features over 5 hours of educational insight surrounding the business and music skills required for success in the modern music industry. It is an intensive learning course designed to enhance the knowledge and expertise of any drummer at any level.
Redmond is an award-winning drummer who has recorded twenty-one #1 singles with sales well over the 10 million mark with multiple artists throughout his successful career. As a high-energy showman, Rich plays to sold out crowds in amphitheaters, arenas and stadiums around the world and is currently touring with country superstar Jason Aldean.
"This project is a culmination of my knowledge and experience from working 20 years in the music scene. After three years of focused effort, I am proud to release this to the world. I hope it helps people effectively and efficiently achieve their dream of being a professional, working drummer." - Rich Redmond
The video series directed and edited by Eric Dorris (Todd Sucherman's award winning "Method's and Mechanics I and II"), can be purchased individually, in mini-chapter form or as an entire package at http://www.DrummingintheModernWorld.com.
The series includes:
Demonstration and deconstruction of drum parts for Jason Aldean's #1 hits, Drum performances with top recording artists like Doc Walker, John Eddie, Rick Orozco, Rockett Queen, The Stellas, and many others.
24 Lessons on playing with click tracks, building loops, cheat chart creation, the Nashville Number System, overdubbing percussion, money beats, styles (rock, country, pop, latin, fusion), rudiments, playing in a rhythm section, drum tuning and more.
Over 40 Drum solos that cover a multitude of styles that convey musical language, emotion, and feeling.
Redmond's tips and insights on touring, the music industry, and interviews with industry leaders and much more.
Multi-camera angles, high-quality audio and state of the art production.
Rich Redmond:
Rich Redmond is an award-winning drummer who has recorded twenty-one #1 singles with sales well over the 10 million mark with multiple artists throughout his successful career. Redmond is the powerhouse drummer behind country superstar Jason Aldean. Rich was voted "Best Country Drummer" and "Best Clinician" by Modern Drummer Magazine, and "Best Country Drummer" by Drum! Magazine. Rich now combines his classical training and 'street smarts' musicianship to bring his passion for drumming to the world. Redmond has a passion for education, and he holds a master degree in music education from The University of North Texas. For more information on Rich Redmond, please visit http://www.RichRedmond.com