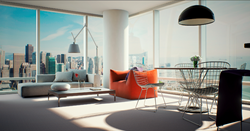 SAN FRANCISCO, LOS ANGELES, MOSCOW, AND BERLIN (PRWEB) January 13, 2017
2017 will undoubtedly go down in history as the year that virtual reality modified the technology landscape. The virtual reality team at Transparent House, THVR, has revealed their interactive application, "The 472 Jackson Experience." The application goes beyond the confines of a 3D rendering to reveal an interactive desktop experience, as well as a fully immersive VR headset experience, highlighting architectural spaces.
After multiple trials of user experience testing, THVR developed a seamless application that guides users through multiple rooms of an upscale loft apartment. Viewers are exposed to details of the floor plan including the kitchen, dining and living room. Garnering wide interest and more than 1,000 downloads in the first week of release, The 472 Jackson experience is now available for download and featured on the Viveport App Store.
"When creating this application, we really considered the needs of our clients," said Denis Krylov, Transparent House Principal. "We work with many Bay Area clients who face the constraint of revealing a space to a foreign investor. Our clients felt that this tool had the capability to guide users and prospective buyers through a space and offered a true sense of scale and understanding."
Founded in 2004, Transparent House specializes in photorealistic CG and 3D development. The agency's expertise in both fields has greatly contributed to THVR's ongoing developments involving VR deployment.
To download the application, please visit http://bit.ly/2jfqcZv. For further insight regarding Transparent House's VR innovations, please visit http://www.transparenthouse.com or contact the agency's project management team at sf(at)transparenthouse(dot)com.
About Transparent House
With offices in San Francisco, Los Angeles, Moscow and Berlin, Transparent House (TH) is the next-generation creative studio that excels at the intersection of digital, art, and commerce. Specializing in the creation of stunning 3D assets, branded environments and high-end retail developments, TH employs strategic digital innovation and 3D for high-profile, future-looking brands. With design and 3D in our DNA, TH is equally adept in creative development as well as production, all of which happens around the clock through the company's interconnected global network. Simply put, our goal is making 3D the spectacular core of your brand's marketing campaigns. Experience the future of strategic marketing design and production today at http://transparenthouse.com.