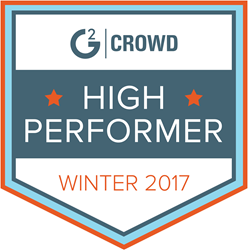 Playa Vista, CA (PRWEB) January 13, 2017
Wiredrive was just recognized as the top digital asset management (DAM) and media collaboration software program for the second time in a row in G2 Crowd's Winter 2017 Awards.
G2 Crowd, which crowdsources from hundreds of thousands of user reviews, rated Wiredrive #1 in its Top 10 Digital Asset Management Products with a 92% satisfaction score. Wiredrive also achieved a ranking of 9.86 out of 10 in User Popularity, making it the most desired DAM software on the Top 10 List.
DAM, or digital asset management, refers to the process of organizing, storing, and sharing rich media files. Wiredrive's SaaS software allows unprecedented speed of upload for massive files, including their recent deep dive into 360 degree video.
Wiredrive CEO Taylor Tyng says their effective collaboration tools, like their recent Adobe integration, are pivotal to their sustained high performances in these awards.
"It's a testament to the energy we put in everyday to evolve our product to the needs of our customers," said Tyng. "We have been working in the space for over 15 years now, so receiving this recognition is just another reason to keep us striving to keep innovating."
Wiredrive's software has been adopted by top agencies, media and entertainment companies including household names like Warner Bros., FX, Publicis, Deutsch and 72andSunny. The results of the G2 Crowd's Winter 2017 Awards are backed up by user testimony from many of these high calibre customers.
One reviewer, James V., noted,"Wiredrive makes it so easy to build and maintain a media library with many ways to customize user experience for all members of the team regardless of their department or level of technological know-how." He went on to praise Wiredrive's reel statistics and analytics data.
In a recent blog post on their website, Leslie Osborne, the Assistant Manager of Worldwide Creative Content at Paramount Pictures, described Wiredrive as, "a genius tool that not only revolutionized delivery within the film industry, but also continues to evolve in ways that are very advantageous for team collaboration and efficient workflow."
Usability and easy-to-interpret data are key elements for companies wishing to adapt quickly to changing client and consumer behaviors. Wiredrive has perfected these elements of their software to maintain their place as the preeminent DAM software company on the market.
For media inquiries, please contact Leni at Melrose PR Leni(at)melrosepr(dot)com or call (310) 260-7901.
About Wiredrive
Wiredrive is a secure media-sharing and collaboration tool designed for creative professionals. More than 1,500 agencies, brands, production houses, and entertainment companies rely on Wiredrive to effectively collaborate with teams and privately share video. Tailored for professionals who create video, Wiredrive has faster upload and download speeds, industry-specific workflows, robust search capabilities, custom branding, insights into user activities, metadata search, and enterprise-grade security.
ABOUT G2 Crowd, Inc.
G2 Crowd, the world's leading business software review platform, leverages more than 120,000 user reviews to drive better purchasing decisions. Technology buyers, investors, and analysts use the site to compare and select the best software based on peer reviews and synthesized social data. Monthly more than a half-million people visit G2 Crowd's site. Co-founded by the founder and former executives from SaaS leader BigMachines and backed by roughly $12 million in capital, G2 Crowd aims to bring authenticity and transparency to business technology research. For more information, go to G2Crowd.com.