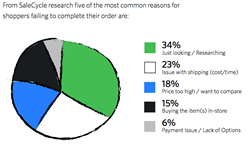 Virgin Atlantic increased online sales by 5% with a cart abandonment email campaign. Every remarketing email sent generated $29 in revenue.
Houghton-le-Spring, Tyne and Wear (PRWEB) January 17, 2017
Around 75% of all online shoppers abandon items in their cart when they leave a website. This equates to more than $4 trillion in potential sales lost for ecommerce sites.
One widely used and highly effective tactic to recover these 'lost' sales is cart abandonment email campaigns. These emails reconnect shoppers with the items they left behind and prompt them to return and complete the purchase.
The results speak for themselves. For example, Virgin Atlantic increased their online sales by 5% with a cart abandonment email campaign. For every remarketing email Virgin Atlantic sent $29 was generated in revenue.
To help marketers manage or plan a cart abandonment email campaign SaleCycle have produced a new eBook;"The Cart Abandonment Email Playbook". It's packed full of tips from brands such as Virgin Atlantic, Reebok and IKEA to help turn cart abandonment emails into conversion superstars.
According to David Moth, Editor at Econsultancy:
"This guide is a great read, with some valuable stats on the issue of cart abandonment, as well as some useful tips on reducing abandonment rates and winning back customers who leave without buying"
Download your copy of the 28 page Cart Abandonment Email Playbook: http://www1.salecycle.com/pr-cart-abandonment-email-playbook