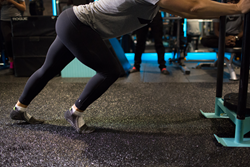 Pedestals are a training tool created to improve a person's overall foot and body health during training sessions so it directly correlates to how they move during competition.
Boston, Mass. (PRWEB) January 17, 2017
Pedestals, the new high-tech footwear designed to improve athletic performance and mitigate injuries while strengthening feet and ankles during workouts, are now available on crowdfunding website Indiegogo InDemand after raising nearly $80,000 on Kickstarter.
"We're excited that workout enthusiasts responded so positively during our introduction on Kickstarter, and that strong showing is continuing on Indiegogo," said Pedestal Footwear Co-founder Mike Lyon. "It's a fact that building stronger feet and ankles in the weight room translates into better performance on the field of play, and Pedestals do that while helping to reduce the number of foot and ankle injuries."
Lyon notes that the overprotection and bulk of traditional shoes hinders the body's performance.
"When you're barefoot, you exert more force and can jump higher and your feet actually sustain less impact upon landing," he said. "Your foot health is vital to movement quality and performance, yet has been the most neglected part of the body during exercise. …until now."
Unlike traditional athletic shoes, the high-tech design of Pedestals provides better support for the foot and ankle area. The light-weight footwear is made with PedTex, a proprietary blend of abrasion-resistant material. PedTex is used in the forefoot and the heel of Pedestals – the areas that wear out the fastest. The upper part of Pedestals, made of a woven saddle using a unique silver weave, dries quickly after workouts – allowing Pedestals to remain odor- and bacteria-free. Pedestals are also machine-washable.
Using pressure-mapping data and wear-testing, the bottoms of Pedestals have a diagonally-designed base grip – which Lyon says is the most effective design in "creating traction and delivering explosiveness" across all three movement planes.
"In an indoor environment where the weather doesn't affect training sessions, it makes no sense whatsoever to wear traditional sneakers," Lyon said. "We aren't concerned with what type of sneaker you wear on the court or field of play. Instead, Pedestals are a training tool created to improve a person's overall foot and body health during training sessions so it directly correlates to how they move during competition. We want athletes playing the sport they love, not sitting on the sidelines riddled with injury."
Lyon notes that six-out-of-seven of the most common sports-related injuries involve the lower body, yet up to this point "nobody wants to take their shoes off, look at their feet, and address issues from the ground up."
Tony Gentilcore, one of the world's top certified strength and conditioning coaches, has been using Pedestal Footwear for over a year now – and recommends them to all his clients.
"You don't wear gloves on your hands every day, so why would you want to wear shoes each day you train," Gentilcore said. "There's a very good match between what we see on the research side and the performance side of workouts when it comes to using Pedestals."
In 2016, Pedestals were featured in several sports and exercise publications, and received the 2016 Men's Health Gear Award from Men's Health Magazine.
Lyon adds that Pedestals Footwear is more than a shoe brand – with the company offering rich content through its website, or by email, so wearers receive weekly updates from fitness professionals wearing Pedestals who discuss certain cues and techniques for the footwear's use.
"In that sense, we're a healthcare provider," Lyon said. "Buyers receive our introductory program upon shipment, then get exclusive programming and content from top strength coaches and physical therapists to address and fix issues…issues that most likely have resulted from people wearing traditional sneakers all their lives."
Pedestals are available at an early-bird discount of $28 (plus shipping) per pair during crowdfunding, with more discounts available for multiple purchases. For more information, visit the Pedestals Campaign Page on Indiegogo InDemand.
About Pedestals
Founded in Boston in 2014 by Mike Lyon and Brendan McKee, Pedestal Footwear is focused on developing 'function forward' footwear that strengthens the feet and provides exercise enthusiasts with a competitive advantage on the field of play. For more information, visit http://www.pedestalfootwear.com.