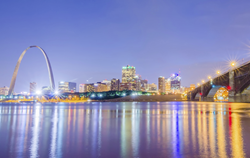 "This job fair was an excellent opportunity to get your name out there as well as be able to see what is available for you." Jessica Bartock, D.O.
St. Louis, Missouri (PRWEB) January 16, 2017
Experts predict the nationwide physician shortage will continue to worsen, as health care reform and an aging population creates a demand for doctors that far exceeds the supply.
According to the Association of Staff Physician Recruiters, physician openings take an average of 204 days to fill. Because physicians are the primary revenue drivers for health care organizations, each physician vacancy represents hundreds of thousands of dollars in lost revenue. Health care organizations are trying to stay on top of the anticipated physician shortage by partnering with PracticeLink.
"In-house physician recruiters play a critical role in health care. Without recruiters, organizations can't get the providers they need, and without providers, patients can't be seen," said Ken Allman, CEO of PracticeLink.com.
PracticeLink aims to connect residents, fellows, practicing physicians, NPs and PAs in all specialties with recruiters on January 26th at our PracticeLink Live! Physician Job Fair & Seminar. The event will take place from 5:00 to 8:00 p.m. at The Chase Park Plaza. Our events are entirely free and include free parking and dinner!
A focus on education is what sets PracticeLink job fairs apart. We offer a 30-minute seminar that covers a 10-step guide to help residents and fellows understand the job search process. The seminar covers topics such as contract negotiations, CV preparation, interviewing tips, obtaining references, defining your career priorities, and more. The seminar is led by PracticeLink's Trainer and Education Coordinator, Tiffanie Lee, along with a panel of recruiting experts.
Register here to RSVP for the PracticeLink Live! Physician Job Fair & Seminar in St. Louis.
About PracticeLink
PracticeLink.com is the most widely used online physician job bank. More than 20,000 physicians and advanced practitioners register with PracticeLink.com each year in their search for a new job, and thousands more search the job bank confidentially when looking for a new practice. More than 1,000 recruiters representing more than 5,000 health care facilities nationwide use PracticeLink to recruit physicians and other health care providers.