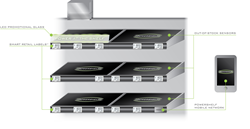 Hitachi Consulting's new business models, Microsoft's World Class Azure Platform and Powershelf's innovative technology equals industry changing solutions.
Annapolis, MD (PRWEB) January 13, 2017
Hitachi Consulting and Powershelf® are accelerating the deployment of smart shelves and software to U.S. retail stores by announcing Powershelf as a Service—a breakthrough in shelf automation, data management and measurement that combines software, sensors and services into one turnkey solution. The solution, which uses Microsoft Azure and Microsoft Power BI, will expedite retailers' ability to leverage live data to make informed decisions about dynamic pricing, inventory and merchandising solutions at the store level. Powershelf as a Service embraces the importance of data in retailers' decision-making processes and provides IoT-enabled Powershelf smart shelf units as well as back-end data, process improvement services and maintenance into one subscription-based program. The new offering will expedite less costly adoption while delivering improved efficiency and accelerating ROI and benefits at the shelf.
"Hitachi Consulting's new business models, Microsoft's World Class Azure Platform and Powershelf's innovative technology equals industry changing solutions. That is the winning formula we are using to bring digital customer experiences and digital operations to disrupt the retail industry," said Jeff Gray, Senior Vice President of Hitachi Consulting.
The Powershelf smart shelf units consist of a series of shelves that hold and display products. Built-in Powershelf technology tracks product availability; when a shelf is empty, a restocking alert is automatically sent to store personnel. The solution utilizes Azure and Power BI to analyze when, where and why products sell so fast, allowing retailers and consumer product companies to identify trends and avoid out of stocks before they ever happen.
"Retailers are increasingly able to leverage IoT sensors and data to enhance their businesses, and solutions like Powershelf have the potential to vastly transform a retailer's ability to meet customer demand," said Brendan O'Meara, Senior Director, Worldwide Retail at Microsoft.
Powershelf as a Service is already being well received in several leading retailers and with key manufacturers. According to John White, co-CEO of Powershelf, "The collaboration of Microsoft and Hitachi Consulting in the selling, implementation and further enhancement of applying data creation is clearly an accelerator and game-changer for the industry."
The Powershelf technology will be showcased in the Microsoft booth (#2803) at the National Retail Federation (NRF) Big Show in New York City from January 15 through January 17.
About Powershelf
Powershelf is a leading provider of retail technology solutions. The patented technology—the Powershelf system—provides constant power and two-way communications to software-enabled applications and devices that deliver a variety of advertising, merchandising and pricing services to customers. Powershelf is designed to address the critical, ongoing challenges faced by retailers and CPG manufacturers around the world. For more information, please visit http://www.IoTSmartRetail.com.
About Hitachi Consulting Corporation
Hitachi Consulting is the global management consulting and IT services business of Hitachi Ltd., a global technology leader and a catalyst of sustainable societal change. In that same spirit – and building on its technology heritage – Hitachi Consulting is a catalyst for positive business change, propelling companies ahead by enabling superior operational performance. Working within their existing processes and focusing on targeted functional challenges, we help our clients respond to dynamic global change with insight and agility. Our unique approach delivers measurable, sustainable business results and a better consulting experience. (Steve.Sharpless(at)HitachiConsulting(dot)com)