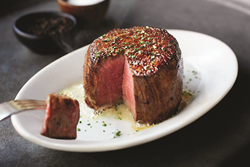 We can't wait to share our beautiful restaurant with the Tulsa community. Our floor to ceiling windows offer breathtaking sunset views and our sizzling steaks are the perfect accompaniment," said Barrett Byrd, General Manager of Ruth's Chris Tulsa
Tulsa, Oklahoma (PRWEB) January 13, 2017
Ruth's Chris Steak House will open its first location in Oklahoma inside the beautiful River Spirit Casino Resort on Monday, January 23, 2017.
The 13,000-square foot restaurant will be open seven days a week for dinner including all major holidays and will offer timeless American Steakhouse favorites complemented by legendary service. Menu selections range from the signature USDA Prime Steaks, served sizzling on 500-degree plates, to the highest quality seafood along with a variety of fresh salads and appetizers, homemade sides, and decadent desserts.
The restaurant features rich textures and unexpected finishes reflecting Tulsa's roots in the oil industry, the region's green country, and its art deco architectural influences. Thoughtfully created by celebrity designer, Taniya Nayak, the décor reflects the local Tulsa community while also paying homage to the New Orleans heritage of founder, Ruth Fertel.
"We can't wait to share our beautiful restaurant with the Tulsa community. Our floor to ceiling windows offer breathtaking sunset views over the Arkansas River, and our sizzling steaks are the perfect accompaniment," said Barrett Byrd, General Manager of Ruth's Chris Steak House Tulsa.
Nestled inside the River Spirit Casino Resort, the restaurant features a large bar and scenic dining rooms, making Ruth's Chris the perfect destination for any event, big or small. With three private dining spaces that can accommodate parties of 15 to 80 people, Ruth's offers the perfect place to host a private cocktail reception, a business meeting or a private dinner that is sure to impress.
"With the creation of our world class resort, Ruth's Chris Steak House is the perfect addition to River Spirit," said Pat Crofts, CEO of Muscogee (Creek) Nation Casinos. "Their upscale atmosphere along with their renowned steaks will offer our guests a wonderful fine dining experience. We are thrilled to have the first Ruth's Chris in Oklahoma."
Prior to opening, Ruth's Chris will host private team training dinners benefiting the Community Food Bank of Eastern Oklahoma. The organization provides food and hope to individuals, families, children and seniors throughout eastern Oklahoma distributing more than 339,000 meals each week to those struggling with hunger.
###
About Ruth's Chris Steak House
Ruth's Chris Steak House was founded by Ruth Fertel 50 years ago, in New Orleans, Louisiana. Ruth had a recipe for everything – from how to prepare her signature sizzling steaks to how to treat her guests. This timeless formula is a testament to how one neighborhood eatery has become the largest collection of upscale steak houses in the world, with more than 150 restaurant locations around the globe. Ruth's Chris remains true to its heritage, helping guests make their best memories on 500-degree sizzling plates. Ruth's Chris Steak House. This is How It's Done.
About River Spirit Casino Resort
Situated in the banks of the Arkansas River in Tulsa, Oklahoma, River Spirit Casino Resort is owned and operated by the Muscogee (Creek) Nation. River Spirit recently completed a $365 million expansion. Part of the expansion included Margaritaville Casino & Restaurant, which opened in 2016. The addition of this new casino means River Spirit now has two casinos in one, each with its own distinctive atmosphere and décor. With over 3,000 high-tech electronic machines, numerous poker tables and table games, River Spirit Casino and Margaritaville Casino are the destination of choice for casino excitement. Guests can enjoy several dining and entertainment venues including Visions Buffet, Johnny Rockets - The Original Hamburger, Scoreboard Sports Bar, 5 o'Clock Somewhere Bar, and Jimmy Buffet's Margaritaville restaurant. Ruth's Chris Steak House, the latest culinary addition to our growing portfolio of exciting restaurant offerings, is scheduled to open in early 2017. River Spirit Casino Resort also recently opened a luxurious 483-room hotel, retail shops, a 30,000-square foot convention and meeting center, and a 2,500+ seat showroom theater for live entertainment and sporting events. Additional casino amenities include non-smoking gaming areas and a high-stakes room.As an active community partner, River Spirit Casino Resort provides a positive economic impact for Tulsa and surrounding towns. Proceeds from gaming operations help to fund a variety of Muscogee (Creek) Nation service programs such as housing, education, elderly assistance and health care. For more information on the tribe's history and government, please visit the Muscogee (Creek) Nation's Web site.
About Taniya Nayak
Taniya's helpful design tips have been featured in Architectural Digest India, HGTV Magazine, Design New England, People, Cosmopolitan, Glamour, The Boston Globe, Family Circle, The Washington Post, Redbook, Better Homes & Gardens, and many more. Taniya has appeared on The Ellen DeGeneres Show, The Oprah Winfrey Show, ABC's Good Morning America & The View, NBC's Today, CBS' The Early Show & The Talk, and is a regular guest on Rachael Ray. In 2004, Taniya was ranked in the top 10 of INDIA New England's Business Women of the Year, and in April 2011, Taniya was honored with an Excellence in Design award from ASID New England and serves on the advisory board for her alma mater Boston Architectural College.
About Community Food Bank of Eastern Oklahoma
The mission of the Community Food Bank of Eastern Oklahoma is to feed the hungry of Eastern Oklahoma through a network of Partner Programs and to engage communities in ending hunger. The organization's vision is food security, with dignity, for all eastern Oklahomans. It is the largest private hunger-relief organization in eastern Oklahoma.