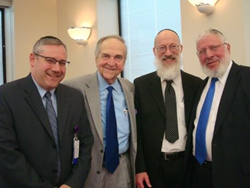 Bronx, NY (PRWEB) January 13, 2017
Calvary and the National Association of Chevra Kadisha (NASCK) joined forces again today at the Hospital's Bronx campus to educate more than 30
community rabbis, rabbinic students, and chaplains, from across the greater New York area.
The event focused on 1) Advanced Directives in Halacha, 2) Pain Management, Delirium and Palliative Care, 3) Hydration and Nutrition, and 4) The Hospital Chaplain as a liaison to the community rabbi.
The attendees learned key medical information needed to provide accurate information to people seeking advice for loved ones or themselves. The speakers at Calvary's event included:

Rabbi Elchonon Zohn, NASCK
Rabbi Mordechai Willig, Yeshiva University
Rabbi Hershel Welcher, Congregation Ahavas Yisroel
Edward Reichman, MD, Montefiore Hospital
Calvary physicians Michael J. Brescia, Robert Brescia and Christopher Comfort; and
Rabbi Harold Stern, Calvary Chaplain
During the upcoming Shabbat Jan. 14, hundreds of communities nationwide will focus on Parshas Vayechi, and participate in NASCK's annual TEAM Shabbos program to spotlight issues surrounding serious illness and the end of life. To learn more about Calvary Care for Jewish patients, please visit http://www.calvaryhospital.org/pastoralcare. To learn more about Team Shabbos, visit http://www.TeamShabbos.org.
About the Company:
For more than a century, Calvary Hospital has been the nation's only fully accredited acute care specialty hospital devoted exclusively to providing palliative care to adult patients with advanced cancer and other life-limiting illnesses. More than 6,000 patients are cared for annually by Calvary's inpatient, home care, and hospice services. Inpatient care is offered at our 200-bed facility in the Bronx and our 25-bed Brooklyn Satellite at NYU Lutheran.
Calvary Hospice provides short-term inpatient care at The Dawn Greene Hospice, located at Mary Manning Walsh Home in Manhattan. To learn more or sign up for the e-newsletter, Calvary Life, please go to http://www.calvaryhospital.org.