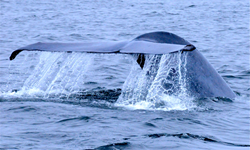 According to Mary Alice Cerrito Fetts, President of Fisherman's Wharf Association, "We invite people of all ages to come enjoy this fun event and learn more about protecting the Monterey Bay National Marine Sanctuary!"
Monterey, CA (PRWEB) January 16, 2017
Don't miss this free fun and educational, interactive family event for all ages that celebrates the migration of the gray whales and much more! The event also benefits many local and national marine organizations that educate, inspire, and empower the public to protect the Monterey Bay National Marine Sanctuary.
The Monterey Old Fisherman's Wharf Association will sponsor and hold the 7th Annual Whalefest Monterey™ at and around Old Fisherman's Wharf, Monterey, California, The Whale Watching Capital of the World™ on Saturday, January 28 and Sunday, January 29, 2017 from 10:00 AM to 5:00 PM.
The event celebrates the migration of the gray whales, and benefits the many local and national marine organizations that build awareness about the Monterey Bay National Marine Sanctuary which educate, inspire, and empower the public to protect it.
Among the highlights will be a Symposium with lectures and documentaries related to ocean and marine life conservation presented at the Dali17/Museum of Monterey at the Stanton Center Auditorium, musical performances, and many educational displays by participating organizations. Thousands of attendees are expected again this year that range from local families and school children who want to learn more about our maritime environment to visitors from near and far who want to explore the annual whale migration.
Whale watchers come from around the world to view hundreds of whales, orcas, dolphins and pelicans who continue to feast on a "krill and anchovy buffet" in the Monterey Bay National Marine Sanctuary. Throughout the year, this Whale Watching Capital of the World offers sightings of 15 species of whales, 10 species of dolphins, 2 species of porpoise, 6 species of pinnipeds and 1 species of Fissiped (sea otter).
Weather permitting, whale watching tours, fishing, sailing and glass bottom boats will be operating from the Wharf (for a fee), and Wharf restaurants will be serving lunch and dinner.
Wharf shops will also be featuring marine-themed merchandise.
The two-day event will feature a wide array of fun and informative activities including:

New this year! Dee, a huge female Humpback whale model provided by the non-profit Save the Whales (43'x15'x8' in size) will display her organs. Visitors can walk through this whale model and experience the similiarities of whale and humans and the immensity of a Humpback.
A 60-foot model whale – Humphrey the Humpback Whale (attendees can climb inside) provided by MAOS, will be on site in front of the Custom House both days to honor the migration of his friends, the gray whales.
There will be squid dissection by scientists from the Hopkins Marine station and interactive displays from the Pacific Shark Research Center.
Learn more about the Whale Entanglement Team (WET)℠ Marine Life Studies who help rescue the increasing number of entangled whales.
Gyutaku, the Japanese art of stenciling fish, will be a fun activity for kids from Noon to 4:00 pm both days in front of Abalonetti Bar & Grill as well as scrimshaw-making with soap.
MY Museum will bring Wheelie Mobilee with lots of interactive activities for kids (Saturday only) sponsored by First 5 Monterey County.
There will also be the very popular Abalone Races with abalone donated by the Monterey Abalone Company. The Abalone Races will be held 11:00 a.m. and 2:00 p.m. near the Big Fish Grill.
On the California Dock, the Shoreline Operations Fire Boat and U. S. Coast Guard 47' Surf Boat will be on hand.
The 29' Response Boat from the The U.S. Coast Guard Station Monterey will be on display on the Causeway next to the Custom House Plaza. Their popular animatronic Coastie the Safety Boat™, a member of the Coast Guard Auxiliary, Flotilla 64 Monterey, will roam and talk with attendees.
Seafloor Science ROV Day Camp will have underwater robotic kits to build and drive, Boe Bots to program, plus other ocean tech equipment to tinker with.
Marine Life Studies Take it to the Streets™ is partnering with Save Our Shores and Surfrider for the Whalefest Community Cleanup (beach and streets). Meet 11:00 am on Sunday, January 29, 2017 at the Marine Life Studies Booth.
Plus many other interactive displays and activities on both days!
The event will feature an array of great live music including the Monterey High School Jazz Band, Kuumbwa Honor Jazz Band, Nick Fettis & His "Orca" stra, Bill Minor & Richard Rosen, Richard Carr, Michael Brautovich, John Tallon and the Ragtime Stompers, Mark Richardson with "Mountain Dulcimer of an Eclectic Kind" and Jonah and the Whale Watchers
There will be Whalefest Monterey commemorative t-shirts and with a $15 donation to MAOS, attendees will receive a t-shirt. Special Whalefest Monterey aprons will also be available for sale.
There will also be many colorful photo ops with costumed animals roaming the Wharf area including a whale, leatherback turtle, mola-mola, shark and the Bag Monster.
The SS-ROV (Seafloor Science Remotely Operated Vehicle) Camp delivers a week-long STEM summer day camp. Camps are offered for two age groups: children ages 8-10 (entering grades 3-5) and ages 11-14 (entering grades 6-9). STEM activities focus on ocean exploration and the science, technology, and operations that enable it. Hands-on STEM activities focus on the scientific method and ocean technologies in a real-world framework of discovery. Activities incorporate electronics, rovers, designing, building and driving underwater ROVs, sensors, seafloor geology, and biology. The 6-9th grade camp, one of the two age appropriate camps, includes programing rovers.
The event's sponsors include Monterey State Historic Park, Marine Life Studies, MAOS, Monterey History and Art Association, Dali17, Monterey Signs, Fashion Streaks, Pepsi, U. S. Coast Guard Auxiliary, Catalina Photography and the Wecker Group. Media sponsors include KRML Radio, KSBW TV, Central Coast ABC, Estrella TV, Santa Cruz Waves and the Monterey Herald.
The array of participating non-profit organizations can be seen here: https://goo.gl/WSlFMt (subject to change).
The outstanding Symposium expert presenters and their presentation synopses, subject to change, can be seen here and the schedule is below:
Whalefest Symposium Program Synopses: https://goo.gl/BXp1V4
Whalefest Symposium Speaker Biographies: https://goo.gl/SQGUqb
For more information and updates, continue to check the website: http://www.montereywharf.com or call 831-238-0777.
7th Annual Whalefest Monterey Symposium Schedule (subject to change)
Saturday, January 28, 2017
10:30 Introduction, Steve Ellzey, M.C.
10:35 - 11:15 Paul Michel, Superintendent of the Monterey Bay National Marine Sanctuary, will provide an update on the latest developments concerning the Sanctuary
11:30 - 12:15 Mark McLaughlin, President of the Artichoke Research Association and of Kleen Globe Inc. Castroville, California, will share his insights into the current relationship between agriculture and the Monterey Bay Marine Sanctuary.
12:15 - 1:30 BREAK
1:30 - 2:15 Jeremy Goldbogen from Stanford University's Hopkins Marine Lab will share some new exciting results from their latest round of camera tags attached to a number of species.
2:30 - 3:15 Peggy Stap, Founding Director of the Whale Entanglement Team (WET)® and Marine Life Studies, "Rescuing Whales – One at a Time"
3:30 - 4:10 Bill Gilly, Stanford University Hopkins Marine Lab, Squid Research "Ask the Marine Science Researcher".
4:15 - 5:00 Lisa Emanuelson, Volunteer Monitoring Coordinator, will talk about "Getting Your Feet Wet in Your Monterey Bay National Marine Sanctuary"
Sunday, January 29, 2017
10:30 Introduction, Steve Ellzey, M.C.
10:30 - 11:15 Tim Thomas History of Japanese Abalone Fishing in Monterey
11:30 - 12:30 Art Seavey of the Monterey Abalone Company and Michael Graham of Monterey Bay Seaweeds will talk about sustainability, shellfish and seaweed aquaculture in California.
12:30 - 2:00 BREAK
2:00 - 2:45 Dan Costa, Elephant Seals
3:00 - 3:45 Dave Jessup, State of California wildlife veterinarian, will present the latest findings on the ever changing picture of sea otter health and biology.
4:00 - 4:45 Ted Cheeseman, Founder, Happywhale, will discuss ways to identify whales you may spot on your whale watching trips
Live Music Schedule
Stanton Center Terrace: Saturday, January 28, 2017
Kuumbwa Honor Jazz Band
12:15-1:30 and 2:30-3:30
Wharf Entrance
10:00-11:00 Nick Fettis and His "Orca"-stra
11:00- 12:00 Mark Richardson and his "Mountain Dulcimer of an Eclectic Kind"
12:00-1:00 Richard Carr, Creator/performer of piano/keyboard soundtracks for the soul, mind & body 1:00- 2:00 Bill Minor on keyboards and Richard Rosen on Harmonica
2:00-3:00 John Tallon and the Ragtime Stompers
3:00-5:00 Jonah and the Whale Watcher
Sunday, January 29
10:00-11:30 Nick Fettis and His "Orca-"stra
11:30-1:00 Michael Brautovich and HIs Saxophone
1:00-1:45 Monterey High School Jazz Band
1:45-3:00 Bill Minor on keyboards and Richard Rosen on Harmonica
3:00-4:00 Mark Richardson and his "Mountain Dulcimer of an Eclectic Kind"
4:00-5:00 Richard Carr, Creator/performer of piano/keyboard soundtracks for the soul, mind & body