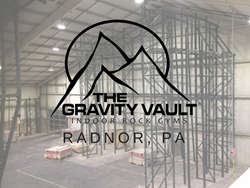 Radnor, Pa. (PRWEB) January 15, 2017
The Gravity Vault Indoor Rock Climbing Gym is excited to announce the opening of its newest location in Radnor, Pennsylvania. As construction wraps up on the 14,000+ square foot climbing gym, the owners anticipate to open sometime in February 2017. This will be The Gravity Vaults sixth location, including three in New Jersey and two in New York. With this being its first location in Pennsylvania, The Gravity Vault is excited to be breaking into the Pennsylvania climbing community.
"We could not be more thrilled to open the newest location of The Gravity Vault in Radnor, Pa. We are excited to introduce everyone on the Mainline and the surrounding area to this growing sport while also serving as a state of the art training facility for those who already know and love the sport of rock climbing!" said Co-owner, Rob Barber.
The Gravity Vault provides a fun, welcoming environment where beginners and experienced climbers alike can learn, train and enjoy climbing together. The facilities cater to every age and all experience levels. With wall features including: Arêtes, Arches, Key Holes, Chimneys, Cracks, Overhangs, and more.
The facilities of The Gravity Vault include:
14,000+ Square Feet of Climbing
35+ Foot Climbing Walls
45-60 Top Rope Stations
Extensive Bouldering - Dynamic Lead Climbing
Cardiovascular and Strength Training Areas
Pro Shops
Founded by Lucas Kovalcik and Tim Walsh in 2005, The Gravity Vault's first location was built in Upper Saddle River, New Jersey, and in a short time they grew the programming options to include memberships, private climbing sessions, birthday parties, camps, competitive climbing teams, belay classes and more.
In 2013 the gym took the next step towards bringing rock climbing to local communities everywhere through franchising. Radnor, Pa., will be The Gravity Vault's third franchisee owned and operated facility. The Gravity Vault is working to open facilities in states spanning the east coast.
###
For more information on The Gravity Vault visit http://www.gravityvault.com