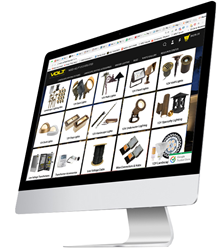 The company took this step to ensure a continued positive customer experience for years to come.
Tampa, FL (PRWEB) January 16, 2017
VOLT® Lighting, leading factory-direct landscape lighting manufacturer, announces the launch of their new enterprise-level e-commerce website. Due to fast growth, a rapidly expanding product line, and increasing traffic, the company took this step to ensure a continued positive customer experience for years to come.
The enhanced features of the new website include easier navigation through the site, a more robust search function, and several enhancements to the ordering process. These include a Quick Order page, a Quick Reorder page, and enhanced mobile device ordering. Everyone wants their online ordering to be fast and simple – the new VOLT site certainly accomplishes those goals.
Also new to the site is a full-featured landscape lighting photo gallery displaying select lighting projects from both professionals and do-it-yourselfers. Each photo is accompanied by a complete description, as well as the VOLT® products used for the project. Keyword tags also display so the viewer can select, for example, all photos of Gazebos or Flowers – an excellent way to get ideas for how to light specific landscape features. (All VOLT® customers are invited to add their photos to this gallery.)
Another valuable resource is the new "Build Your Own Landscape Lighting System" tool. This is meant to help both pros and homeowners walk through the step-by-step process of designing a landscape lighting system.
Steve Parrott, VOLT® Communication Director, discusses the social emphasis of the new website. "Since everyone is now connected through the myriad types of social media, we designed the website to present sharing opportunities on every page.
That includes the common sharing through social media icons as well as a new venue for Product Q & A found on every product page. Another wide-open venue is the new VOLT® Community Forum – a great place to share new product ideas and suggestions for product improvement. We love to receive customer feedback and always take ideas and suggestions to heart."
Finally, it is worth mentioning that the new VOLT® website continues its preferred status as a Google Trusted Store. For anyone unconvinced about the quality of VOLT® customer care, read any of the (more than 6,000) reviews with an average of 4.9 (out of 5) stars. They tell a story that any company would be proud to share.
About VOLT® Lighting
VOLT® Lighting, a factory-direct manufacturer based in Tampa, FL, is one of the fastest-growing manufacturers in the lighting industry. With a newly enhanced e-commerce platform and an aggressive product development strategy, the company continues as the leading online provider of professional quality lighting products. Visit http://www.voltlighting.com for more information.