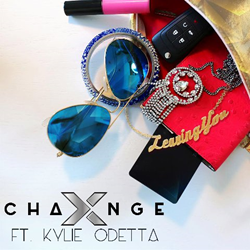 "Leaving You (In The End)" is an irresistible earworm that permanently burrows its way into one's brain after one or two plays.
New York, NY (PRWEB) January 17, 2017
Cold hard steel. Warm curvaceous sound. Raw power that courses through the air like currents of controlled electricity. Such are the images evoked by the native Detroit DJ and producer known professionally as X-Change. X-Change featuring Kylie Odetta's "Leaving You (In The End)" is out now.
"Leaving You (In The End)" is an irresistible earworm that permanently burrows its way into one's brain after one or two plays. Two versions of the song will be released initially – the Extended Mix and the Radio Edit – and it's clear from the high-energy vibe of this song that mainstage festival domination was on X-Change's mind when he wrote it. It's a clubby tune with a female warble that's quite de rigueur. Here's a piece of pure EDM that brazenly craves the peak-time. It's got an attitude that's shamelessly enthusiastic, uplifting and youthful. "Leaving You (In The End)" is an ultimately catchy tune with expert production and one that has the potential to go far in 2017. "Leaving You (In The End)" is the second collaboration between X-Change and Kylie Odetta. Their first collaboration, "Weight Of Your Love," was a critical success in the dance music community earning nearly 220,000 Spotify plays upon its release.
X-Change (real name, Paul Mattis) is an American electronic dance music DJ and producer currently based in Los Angeles. Boasting a hefty online following of over 100,000 plays-per-track on Soundcloud and Spotify, Mattis holds a Master's Degree in Electrical Engineering from the University of Michigan. For years, Mattis served as lead audio development engineer at General Motors in Detroit, honing his expertise in acoustics engineering. Eventually, Mattis awoke to an epiphany that music was where his soul lies and he vehemently tackled the goal of creating an artistic vision for himself. The DJ/production alias, X-Change, was born. With grit and fierce determination, X-Change was soon DJ'ing shows from New York City to San Francisco – including at Detroit's widely revered Movement techno festival – before moving full-time to Los Angeles where he is now based. Music lovers can hear more on X-Change Theory Radio, the weekly podcast available on iTunes.
Singer/songwriter Kylie Odetta has the voice of a birdlike angel and she's already a hit within the indie music scene. Exhibiting the gracious charm one would expect from a child of the south, Odetta's songs embrace jazz and soul influences though her relevance is very much pop. Having warmed-up for established artists including Gavin DeGraw, Colbie Callait, Mat Kearney, Austin Mahone and Kellie Pickler, Odetta is certainly comfortable in front of a live audience.
Said X-Change of "Leaving You (In The End)," "Working with Kylie was just effortless once we got into the studio. I felt like we really understood each other musically and she's an amazing singer. I wanted to create an EDM song that would lift people up when they heard it and hopefully elevate their mood. It's truly an honor having people like Hardwell support my music and I'm hoping 'Leaving You' becomes a summer anthem on the 2017 festival circuit!"
Listen to X-Change featuring Kylie Odetta, "Leaving You (In The End)," here: https://soundcloud.com/dj-x-change/x-change-ft-kylie-odetta-leaving-you-in-the-end-free-download
For information on X-Change, Andrew Rayel, MaRLo, Markus Schulz, RedOne, Price & Takis, The Bloody Beetroots, Giuseppe Ottaviani, Traveler, Assaf, Mimo, Eastside Boyz, Harber, and artists like Armin van Buuren, contact EMILY TAN Media Relations (U.S.), +1(917) 318-3758, EmilyEmilyTan(at)aol(dot)com. Follow EMILY TAN Media Relations on Twitter @EmilyEmilyTan and LinkedIn http://www.linkedin.com/pub/emily-tan/4/342/70b.
# # #