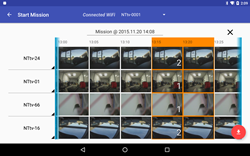 "Better training results in better preparedness. The only way to achieve success is through constant, persistent, and efficient training. NTtv with mvDVR without doubt achieves all of this while reducing training times."
Las Vegas, NV (PRWEB) January 16, 2017
This new feature provides each trainer the capability to immediately review multiple video recordings once they are captured. Because the system is 100% mobile, training and after action reviews can be conducted anywhere. This allows tactical leaders and trainers to watch multiple video streams simultaneously in real time. They can then provide on-site analysis of actions that just occurred.
Training teams now have total control over their video recordings. No longer do they have to wait an excessive amount of time to download video from individual cameras, or stuff team members into a cramped control room to review actions on the objective.
The mvDVR option is offered at no cost to First Responders. The price to upgrade NTtv with mvDVR is $999 per license for existing and non-First Responder customers. For more information, visit Kopis Mobile at booth 3029 at the Shot Show this week or check out the company's website
[http://www.kopismobile.com/mvdvr
About Kopis Mobile: Kopis Mobile specializes in designing and manufacturing custom apps and app-enabled electronics, backed with a thorough understanding of current threats to military and law enforcement operations. Kopis Mobile has driven the creation of multiple custom apps and app-enabled electronics equipment for the Department of Defense, law enforcement and private security markets since 2013.
A former Naval Special Warfare Operator and a group of talented engineers founded Kopis Mobile in 2013 with in-depth knowledge of tactical operations, mobile devices, electronics, software and mechanical engineering. The founders all share a focused vision of enabling technology that directly impacts the warfighter and first responder on the ground by making them more efficient, better enabled and prepared.