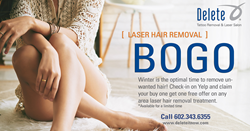 At Delete, we love LOVE and are delighted to offer couples the ability to remove the reminder of a past relationship.
Phoenix, Arizona (PRWEB) January 17, 2017
It's engagement season and Delete -- Tattoo Removal and Laser Salon has identified the need Brides and Grooms are begging for as wedding planning goes into full swing. Christmas, New Year's, and Valentine's Day are the three most popular engagement days of the year and with two down and one to go, Delete urges couples alike to take action in preparation for the big day.
Remove, Rejuvenate, and Revitalize at Delete. We have solutions for couples to look better, remove the past and feel healthier.
With lower temperatures peaking in January it's time to remove unwanted hair. The best spots to remove unwanted hair for the wedding day can feel a little overwhelming but, removing truly unwanted hair during the 12-18 months it takes to plan a wedding is a service Delete is excited to offer brides & grooms alike. From beard bumps, underarms, to brazilians, Delete offers complete hair removal.
Love, understandably, can happen more than once. At Delete, we love LOVE and are delighted to offer couples the ability to remove the reminder of a past relationship, a regretful night, or an ex's name. Deleting the past with laser tattoo removal is our specialty at Delete –Tattoo Removal and Laser Salon. Thousands of patients across Phoenix, Scottsdale, Chandler, Gilbert, Mesa and the Valley have completely, safely and affordably removed an old tattoo.
Revitalizing with vitamins and nutrients after months of planning a wedding can also relieve the stress for brides and grooms. At Delete, The SHiNe (Skin, Hair and Nails), The Energizer, and/or The Skinny are custom Nutrient Infusions for couples seeking an everlasting glow, pumped up energy, and natural weight loss solutions.
About Delete Tattoo Removal & Laser Salon
Delete Tattoo Removal and Laser Salon in Phoenix utilizes the latest in state-of-the-art laser technology and a trained team of certified physicians housed in a sleek, comfortable environment. Delete provides both men and women a convenient and affordable solution for tattoo removal, aesthetic services, and laser hair removal. Delete offers fixed price packages as well as payment plans and financing options. To learn more about the salon, call 855-2DELETE or visit Facebook.com/DeleteTattoo and @DeleteTattoo on Instagram.
# # #