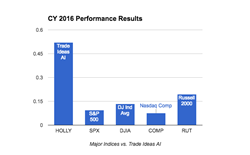 This performance exceeds our expectations and confirms the enormous value our A.I. innovation brings to the investment decisions of our clients
Encinitas, CA (PRWEB) January 18, 2017
The net return of the Trade Ideas' simulated portfolio for the 2016 calendar year was 52% after commissions. These results were achieved by the company's A.I. powered, Investment Discovery Engine, 'Holly.' The portfolio's gross return before commissions and fees measured 74%. These results compare to the S&P 500, measured by the $SPY index, which earned a 9.6% return over the same period.
"This performance exceeds our expectations and confirms the enormous value our A.I. innovation brings to the investment decisions of our clients," said David Aferiat, Co-Founder and Managing Partner of Trade Ideas. "This technology would normally be locked away in a gilded tower. We're not only making our own high performing algorithms available daily, but we're leveraging Trade Ideas' data processing and machine learning capabilities to process client algorithms as well. This is A.I. as a service for the buy-side and sell-side."
Performance of the Trade Ideas simulated long/short equity portfolio reflects historical daily paper trades in the U.S. equity markets. It is not a backtest. Trades are initiated from the daily list of algorithms published by the A.I. system, named 'Holly', and the result of its overnight optimization analysis or 'Quantitative Combine.' The portfolio started with a $1M beginning balance on January 4, 2016 and used $80k (rounded) worth of shares per trade. Commissions are calculated at $0.005 and reflected in the Net Performance (shown in charts). Slippage is not factored. Short trades assume that customer's Broker has access to short inventory for the trades identified by Trade Ideas. In order to showcase the effectiveness of the trades identified by HOLLY, no positions are held overnight. This avoids any conclusion that the outsized return of the A.I. system is the result of one or a handful of successful positions held for weeks or months. Detailed trade data is available from Trade Ideas and can be segmented by gross and net performance, market cap and by time periods. The Trade Ideas Simulated Portfolio is transparent, consistent in data processing, and free from selection or survivorship bias. Its inception date is January 4, 2016.
"The innovation of Holly as a Virtual Analyst shakes up the FinTech community. A.I. powered analysis trumps gut feel, a single data set, or indicator alone. 2016 yielded great results for our hard work: a 500% increase in subscription revenues year over year. In 2017 our technology's impact will grow," observed Dan Mirkin, CEO and Co-Founder of Trade Ideas. "You'll either be using this innovation to capture alpha or others will be using it against you to get theirs. We're looking forward to delivering for our partners in 2017 better bottom lines and a better experience in the markets."
About Trade Ideas LLC
Trade Ideas creates actionable market intelligence for institutions, advisors, and self-directed investors to make consistently informed decisions mitigating risk and capturing alpha. As a SaaS Fintech innovator for over 13 years, Trade Ideas leverages algorithms derived from recursive, Machine Learning, Artificial Intelligence to develop trade plans and ideas and produce statistically tested, optimized performance results. Trade Ideas' inputs include Big Data sets from U.S. and Canadian market feeds, technical, fundamental, and non-structured data sets such as news and social media. Trade Ideas' client base is from around the world totaling more than 8,000 with operations in the U.S., Canada, China, and Europe.
Sign up to receive Trade Ideas' Trade of the Week every Monday with the trade details, charts, and the reason it's chosen.
Next step: Schedule a demo or find out more about Trade Ideas LLC by calling (760) 230-0713 or visiting http://www.trade-ideas.com/professional/.
Twitter: http://twitter.com/TradeIdeas