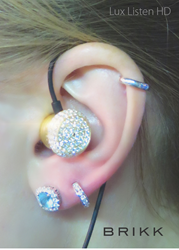 ...coated in 24k gold, and hand-set with over 300 colorless diamonds...
Hong Kong (PRWEB) January 14, 2017
The Lux Listen HD will be unveiled at exclusive private showings in Hong Kong on the 111th floor of the Ritz Carlton Hong Kong from 21-23 January; the 88th floor of the St. Regis Hotel Shenzhen from 24-26 January; and the 88th floor of the Park Hyatt Shanghai from 27-29 January. In addition to the Lux Listen HD headphones, Cyrus will be bringing an exciting collection of bespoke Brikk products, most of which are not available through public channels, to these private showings. A limited number of viewings are available by appointment to potential clients and the media. Please contact a Brikk Concierge for more details.
The Lux Listen HD Headphones feature in-ear monitors (IEM) that are connected to precision machined cases coated in 24k gold, and hand-set with over 300 colorless diamonds (3.0 TCW).  The monitors contain 6 digitally calibrated hybrid speakers worthy of any opulent audiophile on the go. Whether worn while performing for 60,000 devoted fans in a national arena, or while receiving an important call while boarding your plane, the Lux Listen HD will attract the attention and admiration of those around you.
The Lux Listen HD features a custom made dynamic driver and a specially balanced armature driver that provide a three dimensional frequency range. Low ranges are enhanced and extremely deep, while high sounds are fully extended, crisp, and bridged by perfectly balanced and energetic midrange. The headphones are ideal for artists and music professionals, as they are auditoraly compatible with music of any genre. Specialized in-ear fit allows for a 25dB reduction of ambient noise.
The Lux Listen HD includes 4 sets of differing tips, including Lux Ultra Fit memory foam inserts, all housed in a waterproof protection case. The built-in microphone allows for hands-free communication. Each Lux Listen HD comes with a 3.5mm connector or Lightning connector. 10Hz - 40KHz frequency range. 16Ω Impedance. 105dB sensitivity. 
The Lux Listen HD is US$9,995 per pair and available for purchase via the Brikk Lounges in Hong Kong, Shenzhen, and Shanghai until January 29, 2017. It will also be available on Brikk.com, Amazon, Taobao and Brikk Stores, Brikk Authorized Resellers.
Brikk is known for its premium luxury products, like the Lux iPhone 7, which can range in price to upwards of $1.3M. Recently, Brikk launched the Lux Protect Sapphire, which is a genuine sheet of sapphire crystal made to protect phone and tablet screens. Many of Brikk's products are made-to-order and exclusive to existing clients, like the Lux View collection (televisions, monitors), the Lux Heptagon Wheel (a one piece titanium wheel made for Bentley and Bugatti vehicles), and the Lux Skin collection (bespoke clothing designed by Cyrus). While outfitting its billionaires, Brikk seeks to pioneer its unique Robin Hood philosophy, by channeling a significant portion of all sales proceeds to charities chosen by each client. Altruism through opulence.
See the video here
https://youtu.be/fs2HqqTkDgo