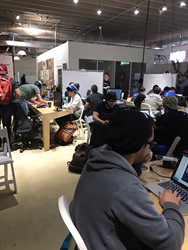 Miami, FL (PRWEB) January 14, 2017
The 3rd annual Miami Bitcoin Hackathon has officially begun today at The Lab Miami in Wynwood. Organized and run by Miami based Bitcoin ATM company, Bitstop, the Hackathon runs from January 13th to January 15th.
The highly anticipated competition started on Friday, January 13 at 7:30 p.m. with an address from the keynote speaker, Tone Vays. Hackathon participant registration begins early Saturday morning and Hacking officially begins at 1 p.m. For the next 26 hours, teams of developers will code to create original applications and softwares that incorporate Bitcoin and fit the Miami Bitcoin Hackathon's criteria. At the close of the Hackathon, the apps will be judged by a panel and prizes will be awarded to the top placing coding teams. Judges include Doug Carrillo, Co-founder of Bitstop; Joshua Unseth, host of Bitcoin uncensored; David Garcia, co-founder of Bitpagos; Alena Vranova, CEO of SatoshiLabs; and Aaron Lasher, CMO of Breadwallet. The panel will choose the winning application based on creativity, product usability, user friendliness and execution.
The first place winner will be awarded the grand prize of 15 BTC (equivalent to $12,000 USD) as well as tickets to the North American Bitcoin Conference. Subsequent winner slots go from second place all the way to sixth place, with bitcoin prizes to be awarded for each.
"We're excited to see what the competitors come up with this year" said Bitstop Co-Founder and Hackathon judge, Doug Carrillo, "The Bitcoin ecosystem has grown exponentially; it is now robust and holds value over 10 billion. As a vital part of the global financial infrastructure, we believe it that developers who create apps that serve society in a positive, creative way, utilizing this new decentralized currency will be able to make a tremendous impact on society and the way it exchanges currency."
Sponsors and partners of the Hackathon include The Knight Foundation and Blockchain Beach, among other.
About Bitstop
Bitstop is Miami's largest Bitcoin ATM company, with 16 active ATM's in service in South Florida and 21 in the state. Founded on the passion for Bitcoin and the idea of a global, decentralized form of currency, Bitstop's mission is simple: to bring the empowering features and qualities of Bitcoin to the everyone.