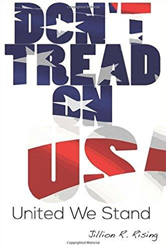 Why is everybody so angry?
Chicago, IL (PRWEB) January 15, 2017
Bill Kurtis endorses Amazon bestseller, United We Stand: Don't Tread on USA, by Jillion R Rising.
"Why is everybody so angry?" Kurtis probes in a new video, his question regarding current American events, including none other than the recent election. The divide in America is critical to address when it comes to various situations affecting everyday lives in the United States.
Author Jillion R Rising emphasizes the idea of an obvious "Them" and "Us," which stands out across topics Kurtis narrows down to; new jobs being service jobs, college expenses, small businesses having trouble getting loans, and recognizing Mayflower values.
The questions which Kurtis believes the book answers are synergetic to the American identity and indicate the way people carry themselves composes how the nation operates. Citizens must unite to influence the direction of the future. Limiting the Umbrella of Power will keep a free spirit and make sure voices are not controlled by a group of Elites.
Kurtis endorses United We Stand, demonstrating its importance in reviving the American destiny. As stated by the author, "We must stop the division of our nation by dividing us into groups, black, white, gender, rich, poor…we are all Americans and the future of this nation must remain in our hands by being an inspired people, innovating job creation in order to maintain economic growth and prosperity to all American citizens!"
The book is written in what the author considers "layman terms," thus a rather quick and practical read for any curious taxpayer or resident of the US. Directed to a range from millennials to boomers, the book is available in both paperback and electronic versions.