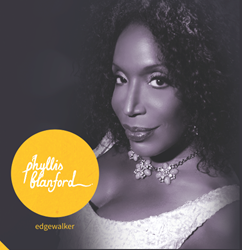 This is the album I always wanted to make." It is "pure, raw, real. My heart, my soul. Expressed. Out loud. Unapologetic
(PRWEB) January 26, 2017
No doubt the global audience that Phyllis Blanford has been performing to will be pleasantly surprised how this 'once shy' songbird stretched her wings right to the core of your musical heart. Taking creative steps as she approached each song on her latest release "Edgewalker".
Vocalist Phyllis Blanford has a broad vision for her music. She lushly fills the corners of her art is color and edges with her band including multi-reedist Don Braden, guitarist Vic Juris, and drummer Winard Harper and vibraphonist Stefon Harris. These are percussion-rich songs softened with delicate horn arrangements, all increasing the buoyancy of Blanfords assertive vocals. ~ By C. Michael Bailey ~All that Jazz
Blanford is an African-American vocalist well-known in Italy, especially for some of her collaborations with great Italian musicians like Tullio De Piscopo and Pino Daniele. ~ Il Giornale, Italy
Blanford is known for exploring the avenues of overcoming the barriers that are often found when integrating different genres in your musical presentation. She explores blending poetry, blues, rhythm and traditional American and Mediterranean blues songs with the intention for a multi-faced musical dance in song.
"This is the album I always wanted to make." It is "pure, raw, real. My heart, my soul. Expressed. Out loud. Unapologetic." Phyllis Blanford
She's participated in several European jazz festivals and music tours with Tulli D'Episcopo, Enzo Avitabile, Roberto Ciotti and James Senese.
Phylis is no stranger to the various levels of artistry, whether it be television, theatre productions or upsetting live crowds with her high-energy performances of tunes she entitles "Rock-Jazz", hinted with a perfume of fusion underneath.
Blanford takes great pride in being heard around the world & across America, with spins in Washington, Germany, Italy, UK, NewYork, Bermuda & more.
Excited about her future, Phyllis is setting her sites on jazz festivals worldwide and is passionate about finding the best musical settings in Israel to perform.
"The Jazz Network Worldwide is proud to feature an artist who forged forward tackling the voices in her head telling her she wasn't ready to walk on stages with confidence. What I admire most about Phyllis Blanford is her undying desire to believe in herself and to overcome her fear by painting a vocal landscape that speaks directly to your heart. "Endless" is her polished mantle-piece, with an impeccable selection of musicians for this cohesive unit, which is right on point" says Jaijai Jackson of The Jazz Network Worldwide
Be sure to check out Phyllis's feature this week at http://www.thejazznetworkworldwide.com and to learn more go to http://www.phyllisblanford.com. "Edgewalker" is now available on Amazon, CDBaby.com, iTunes &more.
##
FACEBOOK
https://www.facebook.com/phyllisblanford/?fref=ts
TWITTER
https://twitter.com/fualni?lang=en
LINKEDIN:
https://www.linkedin.com/in/phyllis-blanford-colleran-9875301a