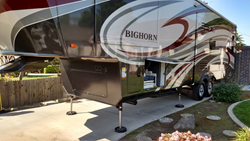 "We saw a customer come in with the SnapPads installed and said they loved them, so we knew it was a natural fit for us. "Joe Stewart - Certified Parts Specialist - Wilkins RV - Bath,NY
Mishawaka, Indiana (PRWEB) January 18, 2017
Origen RV Accessories is pleased to announce new RV Dealer wholesale options from their online jack pad store. After partnering with some of the industries biggest RV ownership groups, including the Heartland Owners Club, Origen has decided to offer special discounts for RV dealerships.
Joe Stewart, Certified Parts Specialist at Wilkins RV, NY, said "We saw a customer come in with the SnapPads installed and said they loved them, so we knew it was a natural fit for us."
President of Origen RV Accessories Gordon Wilson said "The idea was to keep it simple. Dealers can now order as many packs as needed, when needed, so they can free up budget for other things."
A growing list of dealerships have already contacted Origen about the discounts, including TAC Trailer & RV, See Grins, Tacoma RV Center, General RV, Wilkins RV, and many more.
Origen RV Accessories currently sells the RV SnapPad, a permanent jack pad for 9" metal feet, compatible with Lippert hydraulic levelling systems and Rieco Titan electric fifth wheel landing gear. The company is also hinted at releasing a new product in the beginning of 2017 for Power Gear landing feet.
SnapPads come in three different packages, and range in price from $39.95 to $149.95. Dealerships are eligible for a wholesale discount. To apply for membership RV Dealers & Retailers can sign up here & learn more here.