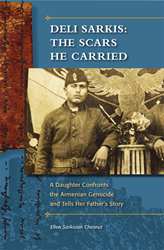 Women, girls, and boys were forcibly snatched away from their families, never to be seen again.
Alameda, CA (PRWEB) January 17, 2017
Within the pages of Ellen Sarkisian Chesnut's new book Deli Sarkis: The Scars He Carried, readers will meet Deli Sarkis, an Armenian who witnessed first hand the atrocities of the Armenian Genocide of 1915-1923. The book is a tale of two journeys: the author's journey to discover the facts, places, and people in order to write her father's story, and her father's journey from near death to survival. Deli Sarkis's physical and emotional scars were a constant reminder of the horrifying times he endured and the loss of so many he loved. Readers will be able to walk with Deli Sarkis on his incredibly emotional journey, as he finds the strength inside of himself to survive.
This remarkable book is filled with photographs of the people and places that played roles in Deli Sarkis's life, as well as maps that outline the villages, cities, and landmarks described in the book. Deli Sarkis: The Scars He Carried provides readers with a sobering recollection of a tragic time in Armenian history.
"On April 24, 1915, over 250 Armenian leaders were arrested in Istanbul and other regions of Turkey. These men had distinguished themselves in all areas of Turkish society: religious, literary, civil, commercial, and artistic. After the arrests they were transported to outlying areas and murdered. The next step was the arrests of able-bodied men and boys who were taken out of their towns and villages and killed. Finally women, children, and the elderly were given two or three days to close up their homes, take whatever they could carry, and, under guard,walk to the deserts of Syria and Mesopotamia (Iraq). Women, girls, and boys were forcibly snatched away from their families, never to be seen again. The rest struggled without food or water until their suffering was relieved by death. One and a half million Armenians died during the years 1915–1923 as a direct result of the genocidal practices of the Young Turk regime."
About the Author
Ellen Sarkisian Chesnut taught history, English and visual arts in the San Francisco Unified School District for many years. She is a published author of non-fiction articles found in ARARAT Quarterly. The author is also a practicing artist of many years specializing in printmaking, multi-media and watercolor. Her work is in many private collections.