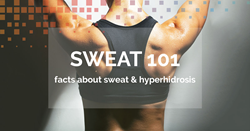 3% of the world is affected by this condition... many more are affected than are medically diagnosed due to the lack of awareness.
FORT LAUDERDALE, FL (PRWEB) January 18, 2017
Visually learn facts and tips on hyperhidrosis and how to manage it from the number one doctor-recommended OTC antiperspirant, Certain Dri.
Excessive sweating and hyperhidrosis are common conditions that occur in the population and often go untreated.
Certain Dri created this infographic to explain the seven types of hyperhidrosis. This visual creates awareness about the condition and illustrates how it can be treated so that people can seek relief and get back to enjoying their lives!
###
About Certain Dri
Certain Dri is rated the number one doctor-recommended OTC antiperspirant for controlling excessive underarm sweating. With three different products to choose from, consumers can find relief from excessive sweating with a formula and strength that works for their needs. Certain Dri is a specialty health product of Clarion Brands, LLC.