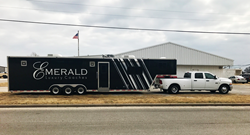 We see the trailer as an important supplement to the excellent service our coach owners already receive from our authorized dealers, Liberty Coach of Florida and Transwest
Stephenville, Texas (PRWEB) January 17, 2017
In a move aimed at bolstering the support it offers the growing roster of Emerald coach owners as well as the larger Prevost and Class A motorhome communities, Emerald Luxury Coaches has introduced its own mobile service trailer to provide on-site maintenance and troubleshooting at RV rallies and other events.
"We see the trailer as an important supplement to the excellent service our coach owners already receive from our authorized dealers, Liberty Coach of Florida and Transwest ," said Emerald CEO John Walker. Initially, the trailer will be a fixture at NASCAR events held at Texas Motor Speedway, where Emerald sponsors the facility's elite VIP campground. It will also travel to selected RV rallies and Prevost-oriented events in Texas and beyond.
Longtime Emerald Service Manager Gus Garrison is in charge of the service trailer's operations, which will focus primarily on electronic systems and components, including TV and audio, satellite communications, navigation, and Crestron remote control.
In terms of design, the trailer reflects the expertise of Emerald CEO John Walker, whose Outlaw Conversions is the world leader in luxury horse trailer conversions. It features a sizeable office area in front and ample rear storage for tools, parts and other cargo as well as a golf cart to navigate shows/rallies and RV parks.
Services offered are by no means limited to Emerald coaches; quite the opposite in fact. "Gus has tremendous expertise servicing all types of RV systems, and the trailer is designed to provide support for any Prevost coach or Class A vehicle," Walker commented. "We welcome the opportunity to serve any coach owner who wants assistance and spread the word about Emerald."
Headquartered in Stephenville, Texas, Emerald Luxury Coaches is a leading provider of luxury motorcoach conversions built on the legendary Prevost X3-45 platform. For more information about Emerald's coaches, production process and personnel, please visit http://www.emeraldluxurycoaches.com or call (888) 675-8612.