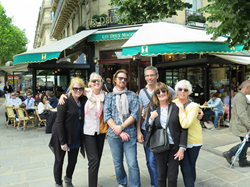 Cure your writer's block and draw inspiration from the sights and sounds of Paris that influenced Ernest Hemingway.
Denver, Colorado (PRWEB) January 17, 2017
"All you have to do is write one true sentence. Write the truest sentence that you know," were Hemingway's wise words about overcoming writers block in his famed novel "A Moveable Feast." Writers whose work needs a kickstart in the New Year will find the help they need with that sage advice and more at the Left Bank Writers Retreat in Paris, June 11-16, 2017. The annual six-day combination writing workshop and literary tourism experience provides ample writing time, personalized instruction and prompts, as well as a guided exploration of favorite Paris literary landmarks. The retreat also is known for its inspirational effect on attendees' creativity.
"Writing in Paris, following in Hemingway's footsteps, trying some of his writing techniques— writers tell me that the retreat works magic for them," says Worden. "We're in Paris, writing, eating and drinking wine—writers return home rejuvenated." Now in its seventh year, the Left Bank Writers Retreat has inspired novels, poetry, plays and historical nonfiction books from writers who attended, many of them later published, she adds.
Featured in the L.A. Times, which suggested, "Cure your writer's block and draw inspiration from the sights and sounds of Paris that influenced Ernest Hemingway, F. Scott Fitzgerald and others on a Left Bank Writers Retreat," the six-day writing workshop is open to all levels of writers. The 2017 retreat will take place June 11-16 and welcomes fiction and memoir writers, poets and playwrights from beginners to published authors. The itinerary includes writing sessions, coaching and one-on-one time with the instructor for a maximum of eight writers, as well as lunch each day, admission to museums and area sights, an excursion to Montmartre, and a literary tour visiting many of the sites featured in the Woody Allen movie "Midnight in Paris" and Hemingway's famous "A Moveable Feast."
Tuition for the retreat is $1,999 with a $500 deposit required to reserve space. (Writers are responsible for their own hotel accommodations, transportation to Paris and other meals.) Reserve space with a deposit on the Left Bank Writers Retreat website at: http://www.leftbankwritersworkshop.com/register.
The Left Bank Writers Retreat is named for the now-famous writers who lived on Paris's Left Bank during the 1920s. Ernest Hemingway, Gertrude Stein, Ezra Pound, James Joyce and F. Scott Fitzgerald are some of the expats who wrote in Paris, congregating in the city's cafes and bars to share ideas. During the June retreat, participants experiment with many of the Left Bank writers' techniques. Worden, who is writing a book about Hemingway and has been published for her writings on him throughout the years, brings her research and experience to bear each June in an informative exploration of famous writers' backgrounds and areas of inspiration in Paris.
About Left Bank Writers Retreat:
Left Bank Writers Retreat founder and writer Darla Worden lives in Denver, Colo., and Paris. Worden has written widely for magazines and authored several books. She writes the popular blog Frenchophile and is currently working on a book about Hemingway's Paris. Now in its seventh year, the Left Bank Writers Retreat takes place on the historic Île Saint-Louis in the heart of Paris. Writers arrange their own lodging and transportation to Paris. For additional information, visit http://www.leftbankwriters.com.
Media Contact: Amy Stark, Word PR + Marketing, amy(at)wordprmarketing(dot)com, 303.777.7667