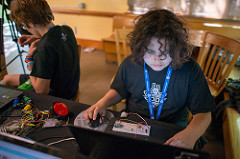 We have always found ways to provide support to those members of our community that have the same hunger for invention we have as a company
Booulder, CO (PRWEB) January 16, 2017
SparkFun Electronics is accepting applications for a new sponsorship initiative that connects SparkFun with students, makers, and hobbyists to support their work through the donation of hardware, time or money to qualifying applicants. SparkFun's core value of sparking innovation and supporting great ideas underpins the Community Partnership Program's goal to amplify the stories of innovators in the field, whether they are engineers, elementary school students, librarians, makers or after-school program leaders.
"We have always found ways to provide support to those members of our community that have the same hunger for invention we have as a company," said Glenn Samala, CEO. "We're excited for a new year of sharing more incredible projects we can all be inspired by."
The Community Partnership Program builds on SparkFun's long tradition of support by creating opportunities for select citizen partners to get the resources they need and then to share their accomplishments as featured makers with SparkFun's worldwide audience.The application process for the Community Partnership Program aims to increase access to SparkFun resources by providing a clear and transparent procedure for applicants to leverage the company's hardware, expertise, network and financial support. SparkFun's Community Partnership Program will elevate the role of citizen partners from conventional beneficiaries to active collaborators by facilitating an exchange of SparkFun resources for compelling content that can be shared with the SparkFun audience.
Applicants can visit the SparkFun Community Partner to fill out an application providing basic information to SparkFun's Community Partnerships team. Applications will be reviewed by the third Thursday of every month, and awards will be announced via email to the recipients and on SparkFun's social media channels the last business day of every month.
About SparkFun Electronics (http://www.sparkfun.com)
Founded in 2003, SparkFun shares its passion by providing parts, knowledge and innovation for those looking to explore the world of embedded electronics. It helps anyone discover their inner inventor and enables individuals to create their own electronics projects. SparkFun currently offers more than 2,100 products, ranging from simple components, like capacitors and resistors, to GPS units, Bluetooth modules, and comprehensive inventor's kits. Additionally, SparkFun has developed nearly 400 tutorials to inspire and support others in their exploration of electronics.