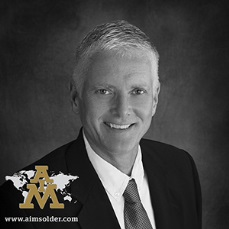 Cranston, RI USA (PRWEB) January 17, 2017
AIM Solder, a leading global manufacturer of solder assembly materials for the electronics industry, is pleased to announce that Timothy O'Neill, Technical Marketing Manager, will present at the IPC APEX EXPO 2017 taking place February 14-16, 2017 at the San Diego Convention Center in San Diego, California.
AIM's Technical Marketing Manager, Timothy O'Neill, will present his white paper "Assessing the Effectiveness of I/O Stencil Aperture Modifications on BTC Void Reduction" on February 15th, 2017 at the Voiding and Solder Reflow session from 10:30 AM – 12:00 PM. O'Neill's paper covers the challenges that PCB assemblers face due to the combination of leadless terminations with underside ground/thermal pads, including tilting, poor solder fillet formation, difficult inspection and – most notably – center pad voiding. The study focuses on I/O pad stencil modifications rather than center pad modifications. It shows a no-cost, easily implemented I/O design guideline that can be deployed to consistently and repeatedly reduce void formation on BTC-style packages.
About Timothy O'Neill
Timothy O'Neill is the Technical Marketing Manager for AIM Solder. Operating out of AIM U.S. Headquarters, Mr. O'Neill is responsible for developing and optimizing product and technical information, collaborating with complementary suppliers and equipment manufacturers and ensuring AIM's products exceed expectations and meet market requirements.
Mr. O'Neill is also a technical writer and presenter for industry trade publications and events. He has co-authored several papers on PCB assembly subjects.
About AIM
Headquartered in Montreal, Canada, AIM Solder is a leading global manufacturer of assembly materials for the electronics industry with manufacturing, distribution and support facilities located throughout the world. AIM produces advanced solder products such as solder paste, liquid flux, cored wire, bar solder, epoxies, lead-free and halogen-free solder products, preforms, and specialty alloys such as indium and gold for a broad range of industries. A recipient of many prestigious SMT industry awards, AIM is strongly committed to innovative research and development of product and process improvement as well as providing customers with superior technical support, service and training. For more information about AIM, visit http://www.aimsolder.com.
Upcoming Events:
February 28 – March 2, 2017 – Strategies in Light & LED Show – Anaheim, California