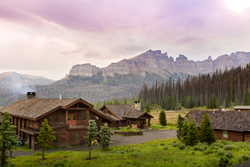 It's hidden away in the Rocky Mountains, making it a peaceful vacation resort with luxurious rustic accommodations surrounded by gorgeous natural scenery.
Dubois, Wyoming (PRWEB) January 17, 2017
"We all need an escape now and then ... to get in touch with our more natural side and let the cares of the world drift away," wrote Money Inc., in its recent list of top luxury wildlife resorts in the United States. "The perfect way to do this is to find one of the elusive wildlife lodges that still remain in the United States.". One of the featured 10 lodges where visitors can find peace of mind in luxurious natural surroundings is the exclusive, all-inclusive Brooks Lake Lodge & Spa, located in scenic Wyoming backcountry near Jackson Hole and Yellowstone National Park.
Money Inc.'s list of Top 10 Luxury Wildlife Lodges in the United States provides travelers with its top picks for best places to escape and enjoy wildlife, with Brooks Lake Lodge, situated at 9,200 ft. above sea level among rugged Rocky Mountain peaks, perfectly fitting the bill. With its full array of outdoor activities – hiking, horseback riding, fishing, archery and canoeing in summer and fall, and snowshoeing, cross country skiing, snowmobiling and ice fishing in winter – coupled with gourmet meals, plush accommodations and a full-service spa, the lodge has luxury in the wilderness covered.
This month, popular travel magazine "Vacation Idea" shared its 23 Stunning Inns & Lodges in the U.S. Rocky Mountains, emphasizing destinations near national parks, and again Brooks Lake Lodge – located near Grand Teton and Yellowstone National Parks – made the list. Highlighting the resort as a "lovely Rocky Mountain getaway with rustic cabins surrounded by unforgettable scenery," the travel website went on to list the historic guest ranch's selection of outdoor lovers' activities that take full advantage of the lodge's remarkable wild setting, deep in Shoshone National Forest near Dubois, Wyoming.
Also this month, historic Brooks Lake Lodge, built nearly 100 years ago in Western Craftsman style, made Only in Your State's list of The 20 Places You Should Go in Wyoming in 2017. The popular website named Brooks Lake Lodge Wyoming's "Most Hidden Resort," including the secluded guest ranch on its impressive list of the state's top destinations. "It's hidden away in the Rocky Mountains, making it a peaceful vacation resort with luxurious rustic accommodations surrounded by gorgeous natural scenery," writes the website.
"It's so nice to see Brooks Lake Lodge recognized among so many places to visit both nationally and within our state," says General Manager Adam Long. "Every year we strive to create that perfect balance of nature, luxury and fun for our guests, who often return to us after enjoying memorable and meaningful vacations in our unique, remote setting. We are honored to be included in these recent 'best' lists that highlight many of the special things about Brooks Lake Lodge."
Brooks Lake Lodge & Spa, known for its remarkable backcountry location and excellent customer service with a nearly 1:1 guest-to-staff ratio, is currently enjoying its winter season with lots of new snow for the many winter enthusiasts who roam the nearly two million acres of snowy terrain for outdoor play before returning to the crackling fireplaces and delicious meals inside the lodge's historic walls. All meals are included in overnight stays and served by the lodge's master chef in the striking stone-and-timber dining hall. Guests of the lodge can also relax with a soak in the 11-by-17 ft. hot tub while taking in spectacular views of the Pinnacle Buttes and alpine Brooks Lake as well as choosing among a variety of massages and facials offered in the on-site Rocky Mountain Spa.
About Brooks Lake Lodge & Spa
Brooks Lake Lodge & Spa, a 100-year-old historic guest ranch near Jackson Hole, Grand Teton National Park and Yellowstone National Park, is located one mile from the North American Continental Divide, with views of the Pinnacle Buttes, Austin's Peak and Brooks Mountain. Surrounded by evergreen forests, wildlife and Brooks Lake, the exclusive, all-inclusive Wyoming Rocky Mountain resort offers five-star service, luxury accommodations and gourmet dining. The new separate spa facility was built with Western Craftsman-style detailing to complement the historic lodge. A dude ranch by summer and ski and snowmobile haven in the winter, the lodge provides year-round activities for outdoor enthusiasts. All-inclusive rates include lodging, meals, activities and spa access. For additional information and reservations visit http://www.brookslake.com or call 866.213.4022.
Contact: Amy Stark, Word PR + Marketing, amy(at)wordprmarketing(dot)com