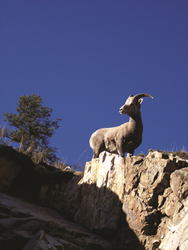 "In the past seven years, WSF's auction of special permits and tags has raised a total of $17,472,500 for conservation efforts throughout the U.S., Canada and Mexico from the tags alone." Gray N. Thornton, President & CEO Wild Sheep Foundation
Bozeman, Mont. (PRWEB) January 17, 2017
The Bozeman, Mont. based Wild Sheep Foundation (WSF) announced it expects to raise more than $3 million for state, provincial and tribal wild sheep conservation during the auctions of special conservation permits and tags at the foundation's convention in Reno, Nev. Jan. 19-21.
Special conservation permits and tags for an array of big-game species in Canada, Mexico, the U.S. and Asia will be auctioned off at WSF's 2017 Convention and Expo, The Sheep Show™, this week at the Reno-Sparks Convention Center and Peppermill Resort Spa & Casino. This year marks the WSF's 40th annual convention.
"We typically direct more than $3 million annually to state, provincial and tribal agencies through the sale of conservation permits and tags at our convention," said WSF President and CEO Gray N. Thornton. "The funds raised are used to advance research into diseases that threaten wild sheep populations, support trap and transplant measures and provide habitat expansion and water resources, among many other efforts. All of this work by on-the-ground agencies is carefully planned to protect and augment wild sheep populations throughout North America."
Thornton also said according to data from the Western Association of Fish and Wildlife Agencies, 75 percent of all wild sheep conservation and management revenue comes from special auction and raffle permits and tags.
"In the past seven years, WSF's auction of special permits and tags has raised a total of $17,472,500 for conservation efforts throughout the U.S., Canada and Mexico from the tags alone," said Thornton. "WSF also typically directs more than $1 million annually to wild sheep and mission programs from operational dollars. During the past three years, WSF has directed more than $13.4 Million to wild sheep, wildlife and habitat conservation."
During evening banquets at The Sheep Show™, special permits and tags from 13 U.S. states, 2 Canadian provinces, Mexico, Mongolia and 3 tribal reservations will be offered during often fiercely-competitive auctions. Auction items will include an array of special permits and tags for mule deer, antelope, moose, elk, Alaskan brown bear, mountain goat and four species of North American wild sheep: Dall's, Stone's, desert bighorn, and Rocky Mountain bighorn as well as Asian argali.
At last year's convention, auctions of these special permits and tags raised $2,937,500. Three years ago, WSF's special permit and tag auction proceeds raised a record $3,073,000. With the largest attendance in four decades expected at this year's convention, Thornton said the foundation expects to exceed the $3 million mark again.
For a complete listing of special permits, tags, other auction offerings and on-line bidding opportunities, visit http://www.wildsheepfoundation.org.
"These are hunts-of-a-lifetime for some of the most treasured and sought-after species any hunter could dream of," said Thornton. "One of the convention's most exciting events will be the Jan. 20 Friday night auction of a special permit to pursue one of Montana's prized Rocky Mountain bighorn sheep."
At the 2013 Sheep Show, the Montana Rocky Mountain bighorn special permit went for a record $480,000. Since then, the Montana bighorn permit has consistently raised over $300,000 annually and remains the auction item that brings in the highest price. These dollars are directed back to Montana Fish, Wildlife, and Parks to fund bighorn sheep restoration and conservation in the state.
"All of the auction excitement and competitiveness translates to conservation dollars that go back to the states, tribes and provinces to put and keep wild sheep on the mountain for everyone to enjoy," said Thornton. "We constantly face challenges for the future of wild sheep, particularly disease and habitat issues. These conservation dollars go directly back to address these challenges at the grassroots level, and our success is measurable in the three-fold increase in bighorn sheep populations over the past 60 years."
For a full schedule of events, information on hotel discounts at the Reno Peppermill Resort Spa Casino and the Atlantis Casino Resort Spa, or to join as a member with the WSF and the conservation and education programs, please visit http://www.wildsheepfoundation.org, contact 800-OK-FNAWS (800-653-6297), email info@wildsheepfoundation.org or visit Facebook.com/wildsheepfoundation. Contact WSF at (406) 404-8750 to register or visit the Expo Registration Deck at the convention site https://www.visitrenotahoe.com/about-us.
###
The Bozeman, Montana based Wild Sheep Foundation, formerly the Foundation for North American Wild Sheep (FNAWS,) was founded in 1977 by wild sheep conservationists and enthusiasts. WSF's Mission is to enhance wild sheep populations, promote professional wildlife management, and educate the public and youth on sustainable use and the conservation benefits of hunting while promoting the interests of the hunter and all stakeholders. With a membership of more than 6,700 worldwide and a Chapter and Affiliate network in North America and Europe, WSF is the premier advocate for wild sheep, other mountain wildlife, their habitat, and their conservation. Since forming in 1977, the Wild Sheep Foundation and its chapters and affiliates have raised and expended more than $110 million on conservation, education and conservation advocacy programs in North America, Europe and Asia towards its Purpose to "Put and Keep Wild Sheep On the Mountain"™. These and other efforts have resulted in a three-fold increase in bighorn sheep populations in North America from their historic 1950-60s lows of ~25,000 to ~85,000 today. WSF, our Chapters and Affiliates and agencies partners are also working together to ensure thinhorn sheep thrive in their northern mountain realms for generations to enjoy.