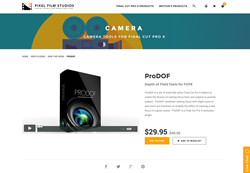 ProDOF is the perfect set of tools for video editors that want to create the illusion of rack focusing from one subject to another subject in a scene
Aliso Viejo, California (PRWEB) January 21, 2017
"ProDOF is the perfect set of tools for video editors that want to create the illusion of rack focusing from one subject to another subject in a scene," said Christina Austin - CEO of Pixel Film Studios.
Video editors using ProDOF can add realistic depth of field in a given scene. Easily create the illusion of a DSLR racking focus from one area into the next. ProDOF comes with 0.5 second, 1.0 second, 1.5 second, and 2.0 second transition durations.
Using ProDOF is easy in FCPX. Start by choosing a preset with up to 4 masking points and zoom in/zoom out functions. Adjust the points to change the shape of the mask. Use the roundness and feathering controls to adjust the mask falloff and achieve a more seamless look. Next, use the ISO and Aperture to change the quality of the blur. ProDOF will do the rest.
ProDOF simulates the functions of a camera. Decreasing the aperture will increase the amount of blur seen in a given shot. Adjust the ISO changes the camera's sensitivity to light, thus causing a brighter image. Adjust the two sliders to change the quality of the blur.
The ProDOF plugin comes with zoom in, zoom out, and non zooming presets in various transition durations. With simple on-screen controls, video editors can combine the effect of a camera racking focus with a slight camera movement to enhance the effect of focusing from one subject to a new subject.
Established in 2006, Aliso Viejo, California-based Pixel Film Studios is an innovative developer of visual effects tools for the post-production and broadcast community. Their products are integrated with popular non-linear editing and compositing products from Apple FCPX. Apple, the Apple logo, Mac OS X, and Macintosh are registered trademarks of Apple Inc. in the U.S. and/or other countries. All other trademarks and trade names are the property of their respective owners.