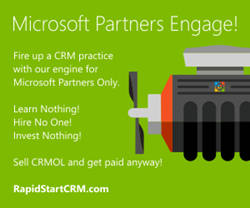 "The combination of getting up and moving forward quickly and under budget was very valuable to us, and RapidStart CRM definitely provided that." - Gulfshore Bank
Tampa, Florida (PRWEB) February 14, 2017
RapidStart CRM, a Microsoft Partner solution for the deployment of Microsoft Dynamics 365, has named Leaf Software Solutions as their first Partner to meet the ISV's new "Certified Partner" Designation.
"RapidStart CRM has over 300 global partners, and our new Certified Partner designation is a way for us to recognize those partners who are the most committed and capable of helping customers achieve quick success, and achieve scale with Dynamics 365, utilizing our RapidStart CRM solution" said RapidStart CRM's Steve Mordue, "Leaf Software Solutions not only met, but exceeded, our new criteria on all measures."
About Leaf Software Solutions: Since 1987, Leaf Software Solutions has accelerated commercial growth for their clients. They develop mission critical software solutions that solve complex business challenges. Typically, their clients come to them when they are looking to expand and grow their business exponentially or after they have exhausted their search for off-the-shelf technology solutions. Leaf brings a unique blend of talented business and technology resources to every project, striving to first understand the opportunities and challenges their clients are facing, and then apply the correct technology solutions. Because they focus on the business need first, they can design solutions that scale with their clients. In addition to offering solutions for Microsoft Dynamics GP and Microsoft Dynamics 365, they are primarily architects and builders of custom software applications that intersect across cloud, mobile, and a dynamic user experience.
About RapidStart CRM: RapidStart CRM eliminates the risks for non-CRM partners, as well as CRM partners, from initial deployments. Designed to get a new customer up-and-running with basic capabilities, customized to meet their initial needs, with integrated new user training, RapidStart CRM is more about new user adoption than anything else. With a low fixed cost, RapidStart CRM can be offered by our partners to their customers, for less than a typical partners' internal costs.