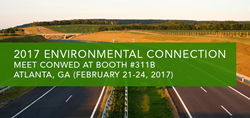 Minneapolis, Minnesota (PRWEB) January 16, 2017
Conwed, the leading plastic netting manufacturer in the world, will exhibit its erosion control netting portfolio at the 2017 Environmental Connection Conference & Expo in Atlanta, GA (Booth # 311B - February 21-24, 2017). Organized by the International Erosion Control Association (IECA), this annual conference gathers engineers, consultants, construction, government, and industry professionals to explore the latest trends and practices in erosion control, sediment control and stormwater management.
Conwed netting plays an essential function in rolled erosion control products (RECPs). Erosion control manufacturers use Conwed netting as the containment element in their Erosion Control Blankets (ECBs), Turf Reinforcement Mats (TRMs) and Sediment Retention Fiber Rolls (SRFRs) — commonly known as wattles. Conwed also manufactures an entire portfolio of Prostran® fibers which are used as a filler in TRMs and high-tenacity polypropylene (PP) yarn used to stitch-bond the layers of rolled erosion control products.
Erosion control blankets are typically used for temporary applications. "Conwed manufactures two ECB components, the netting used to contain the matrix and the yarn used to mechanically stitch the layers together. Our engineering teams are able to customize netting and yarn configurations to meet specific performance requirements", said Ivan Soltero, senior strategic marketing manager at Conwed.
Turf reinforcement mats are usually permanent RECPs typically used in hydraulic applications, such as high flow ditches and channels, steep slopes, stream banks, and shorelines, where erosive forces may exceed the limits of natural, unreinforced vegetation. Conwed manufactures three TRM components: the Prostran fibers used as a matrix, the netting containing them, and the yarn used to mechanically stitch the layers together.
Sediment retention fiber rolls, or wattles, are 3-dimensional devices of a specified filler matrix encapsulated within a flexible containment material utilized in sediment and flow control applications. Conwed manufactures the netting containing the matrix materials and can modify the netting configurations for diverse erosion control applications.
Considered the largest soil and water event in the world, Environmental Connection expects 2,000 professionals representing 25 different countries. "We provide the highest quality netting, fibers and yarn the erosion control industry requires to build distinctive erosion control products and Environmental Connection is the ideal venue to showcase our portfolio", said Soltero.
To know more about Conwed and its erosion control netting portfolio, visit
http://www.conwedplastics.com/erosioncontrol
About CONWED
Conwed is the leading plastic netting manufacturer in the world. Conwed manufactures extruded, oriented, knitted and multilayer netting with unique customization capabilities. Headquartered in Minneapolis, Minnesota, Conwed has five manufacturing locations on two continents and a global distribution network.