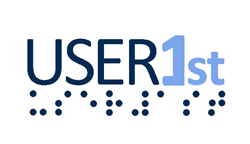 Everyone should have an opportunity to use technology to manage their health information. User1st technology is a great way for healthcare systems to make that happen
Washington, D.C. (PRWEB) January 17, 2017
User1st, a web accessibility company, has announced a partnership with Caraflow, a data capture solutions company to healthcare providers. Under the agreement, Caraflow will make User1st's quick-deploy, cloud-based automated accessibility software system available to its healthcare customers through their website to help them meet the accessibility requirements of the Affordable Care Act (ACA).
Section 1557 of the ACA prohibits providers of health care programs and services that receive federal financial assistance from discriminating against individuals with disabilities. Although accessibility specifications have not been released yet, the Department of Health and Human Services suggested that meeting the specifications of the Web Content Accessibility Guidelines (WCAG) 2.0 AA Level would fulfill the legal web accessibility provision.
Launched in 2014, User1st's innovative technology enables companies to easily and efficiently ensure that their websites are compliant with the highest web accessibility standards based on WCAG 2.0 AA Level. User1st's automated software corrects accessibility issues on web pages by creating and applying accessibility skins that fit over the page without altering its content. The system can be activated automatically or by the request of a unique visitor by a single click of a button. Different accessibility skins accommodate different needs for different disabilities, such as partial/complete blindness, epilepsy, motor disability, and more.
Caraflow, founded in 1999, is a healthcare IT solutions provider. Caraflow's expertise lies in data capture automation tools, which boosts efficiency for its hundreds of healthcare system customers across the United States while reducing overall costs.
"Web technologies have changed the way we communicate, work, shop, and gather information.  They've had a tremendous impact on the healthcare industry.  Everyone should have an opportunity to use technology to manage their health information.  User1st technology is a great way for healthcare systems to make that happen," said Aleks Nikolich, CEO of CaraFlow, LLC.
"We are very much looking forward to partnering with Caraflow to help healthcare organizations meet the accessibility requirements of the Affordable Care Act. Ensuring that healthcare providers offer accessible online content to patients, staff, and the public is a right that we are happy to assist in," said Amihai Miron, CEO and co-founder of User1st.
Visit User1st's blog for web accessibility related news, updates, and Spotlight Feature series, which highlights individuals who have advanced the rights, opportunities and boundaries of what was thought possible for individuals with disabilities.