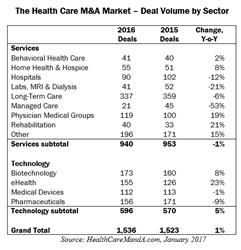 Norwalk, CT (PRWEB) January 16, 2017
Health care merger and acquisition activity grew by a slight 1% in 2016, to 1,536 transactions, setting a new record for health care M&A deal volume. In 2015, which held the previous record, 1,523 deals were announced across 13 health care sectors. Spending in 2016 reached $255.7 billion, down 36% compared with 2015's $400.3 billion.
Health care services made up 61% of 2016's deal volume, due to ongoing investor interest in post-acute health care sectors such as Long-Term Care and Rehabilitation. The Behavioral Health Care sector also gained more attention. Acquisitions of Physician Medical Groups, both primary care and specialty physicians, were strong, thanks in part to the bipartisan bill, the Medicare Access and CHIP Reauthorization Act of 2015 (MACRA).
The health care technology sectors—Biotechnology, eHealth, Medical Devices and Pharmaceuticals—showed mixed performances compared with the year before. Deals in the eHealth sector rose 23% in 2016, as more and more companies realized the need for strong data analytics and revenue cycle management. Pharmaceutical spending shifted to the Biotechnology sector, as drug companies went shopping for promising drug candidates to fill their pipelines.
"Health care mergers and acquisitions were still riding the tide of low interest rates and higher-than-ever numbers of consumers covered by health insurance under the Affordable Care Act," said Lisa E. Phillips, editor of HealthCareMandA.com. "The election of Donald Trump came as a surprise to many, but doesn't seem to have hurt the market, yet. We'll see if 2017 can deliver the same level of growth."
"The fourth quarter of 2016 didn't deliver the same kick as previous fourth quarters," Phillips noted. Deal volume declined about 2%, to 367 transactions, compared with the third quarter's 375 transactions. Deal volume was also lower than Q4:15, down 4%. Spending in Q4:16 fell 24%, to $37.3 billion, compared with $48.8 billion in the third quarter, and was 16% lower than the same quarter in 2015, which posted $44.4 billion.
For more information on HealthCareMandA.com or for a membership to any of Irving Levin Associates' services, please call 800-248-1668. Irving Levin Associates, Inc., established in 1948, is headquartered in Norwalk, Connecticut and is online at http://www.levinassociates.com. This privately held corporation publishes annual and quarterly research reports, monthly and weekly newsletters, and maintains merger and acquisition databases on the health care and senior housing markets. If you would like to receive future releases, please email pressreleases@levinassociates.com.