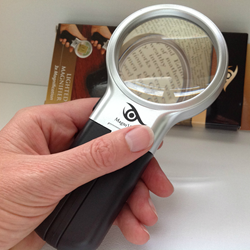 The MagniViz makes it easier and quicker to complete all manner of fiddly tasks
San Francisco, California (PRWEB) January 18, 2017
Lush Items celebrated record sales over the holiday period for their ever popular home office product - the MagniViz Magnifying Glass. Following a few anxious days back in November, due to the MagniViz running out of stock whilst waiting for their new inventory order to be scanned into the Amazon warehouse, there was relief all round as the Amazon listing indicated it was back in stock - just in time for the tsunami wave of Black Friday online shoppers. The only reason it ran out of stock in the first place was because the newly arrived shipment got caught up in a backlog caused by so many sellers on Amazon desperately trying to get their products in stock, ready for the busiest time of the year.
Anyway, after losing a little momentum due to running out of inventory, sales soon picked up again as bargain hunters started browsing for the various deals associated with Black Friday week. The shocked Sales Director of Lush Items, Julie Stevens, said, "This has been the most amazing seasonal period yet for our MagniViz brand. Let's hope we can build on this momentum into the trading year ahead."
Most retailers, including Lush Items, experience a surge in sales over the festive season. Data suggests that as much as 70% of total annual sales occur in the 3 month period of November through January. So, it is important for a small business to carefully calculate the required level of inventory to meet demand, not only during this crazy shopping season, but also continuing beyond the Chinese New Year for those retailers who source from China.
So far, sales momentum for the MagniViz brand is continuing into the start of this new year, but stock levels seem to be holding up to demand so far. The sales team at Lush Items can congratulate themselves on calculating the right amount of inventory to order back in August when the decision was made. In order to keep up this momentum, the MagniViz is currently being offered for sale on Amazon in the US at a New Year sale price of $8.99, which could partly explain why sales are still good.
Julie Stevens, the Lush Items Sales Director, explained the new year plans for the MagniViz. "Our main focus for the next trading quarter is to increase our marketing efforts outside of Amazon to build upon the good holiday sales.".
The MagniViz Magnifying Glass is a versatile lighted magnifying glass which can be used either hand held or hands free due to the integrated folding stand. It has an acrylic lens with 3x magnification, 2 LED lights and comes with a soft cleaning cloth. The back of the box gives instructions on how to operate the folding stand and replace batteries.