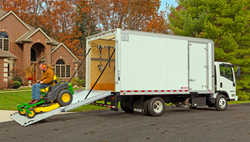 Morgantown, Pennsylvania (PRWEB) January 18, 2017
Morgan Corporation, North America's largest manufacturer of light- and medium-duty truck bodies, announces the launch of its new ProscapeVan, designed specifically to meet the needs of today's lawn, landscape and nursery professionals. The new ProscapeVan makes it easy to transport, protect and secure nearly everything that the professional landscaper uses to perform his or her job and service, and offers unique features that enable easier and more efficient landscape operations while at the same time keeping those valuable tools of the trade safe, secure, and out of the weather.
Rugged and reliable, with a clean, professional design, ProscapeVan is an attractive solution for image-conscious customers. The open interior layout maximizes space for tools, materials and equipment. Alternately, the owner can choose from a variety of custom options including lighting, flooring, tie-down, and rack systems to create one's own portable "shop".
ProscapeVan's easy access makes loading and unloading fast and simple. The easy-to-deploy aluminum ramp is corrosion-resistant, light in weight, and yet durable enough to withstand the demands of daily use offering up to 2,500 lbs. load capacity. It's easy to stow and secure, and occupies minimal interior space. A 'smart' interior configuration provides increased usable floor space, versus an internal dovetail design.
For more information about the Proscape-Van, visit http://www.morgancorp.com/dry-freight/proscape-van/features.php.
Morgan Corporation has been the premier producer of truck and van bodies in North America for more than 60 years. Morgan specializes in the manufacture of Class 3 to Class 7 (GVW) box truck/straight truck bodies to serve the dry freight and refrigerated industries. Morgan produces truck bodies to accommodate cargo of every configuration — from parcel delivery to furniture movers and heavy-equipment hauling, insulated and refrigerated units, bottled gas transport, and flatbed/stake & platform bodies. In recent years, Morgan has also launched dump and service truck bodies geared towards the landscape and contractor industries.
#####