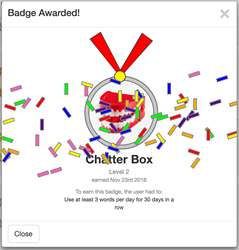 Goals and rewards can be a powerful source of motivation
South Jordan, UT (PRWEB) January 18, 2017
CoughDrop (mycoughdrop.com) seeks to further engage users of alternative and augmentative communication (AAC) by adding a goals feature to the CoughDrop app. The tool will be available as a resource to parents, therapists, teachers, and support teams of individuals with complex communication needs.
Although CoughDrop already provides simple, flexible, cloud-based AAC to users around the world, the company hopes that adding the opportunity to set and achieve goals will open more communication doors and excite users.
"Goals and rewards can be a powerful source of motivation for learners" said CoughDrop founder, Brian Whitmer. "We've just taken that idea and worked it into the app."
By accessing the goals interface within CoughDrop, users can select a pre-set goal or create one of their own. Goals could focus on targeted vocabulary usage, AAC use per day, speech at home or in the classroom, and more. CoughDrop can track many goals automatically and teachers, therapists, and parents can monitor progress as well. Vocabulary and usage information is saved securely based on industry best practices and can be used to determine progress and learning. Teams can also use the in app-assessment tool to help manually measure growth.
The communication team sees regular reminders about the user's current goals, so everyone knows where to focus their efforts. When a goal is met, the communicator can receive a badge pinned to their dashboard to let them know they have completed it. Users can customize a badge with custom pictures or sound effects, or the team use ones already in the system. Communicators can also access their achievements in the goals section of the app.
"Learning to use AAC isn't easy," said Scot Wahlquist, CoughDrop's Director of Business Development. "It takes a lot of work, and there are often plenty of other things fighting for time and attention. If we can create a way to keep the AAC team centered on the things that matter most, and maybe have a little bit of fun at the same time, then that is something worth working toward."
The CoughDrop goal interface is available to all CoughDrop users, on iOS, Android, Kindle, Windows or in any web browser. Sign up for a free 2-month trial of the program at mycoughdrop.com or visit the website to learn more.