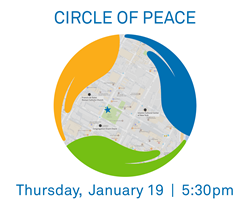 New York, NY (PRWEB) January 17, 2017
Everyone is invited to be a part of WOVEN's Circle of Peace for a nonviolent world this Thursday, January 19 from 5:30 pm - 6:30 pm. We will meet at 96th Street and Lexington beside Samuel Seabury Playground.
Participants will join hands to link the nearby Francis de Sales Roman Catholic Church, Islamic Cultural Center of NY, a Mosque and a synagogue. Through this New York City-endorsed unification, the participants make an important statement: Discrimination against any one religion is discrimination against all religions.
This stand for peace, particularly on the evening before the Presidential Inauguration, is a demonstration of interfaith and tolerance, as a part of WOVEN's mission to end violence in our lifetime.
Diane Wege, our founder and board chair, is available for interviews about the event, and we welcome all inquiries. Contact Emily Wexler at 646.584.7846 / emily(at)wovenow(dot)org / wovenow.org
About WOVEN WOVEN, inspired by the commitment "We Oppose Violence Everywhere Now," is building a global network to end violence. Online, through urban print art, and grassroots organizing, we unite issues of violence with problem solvers for peaceful, effective solutions. WOVEN is the aggregate of individuals, communities, and nations who choose peaceful resolutions and refuse to accept violence as an inevitable, incurable norm. This includes our network of over 55 organizations who work towards achieving peace through their unique initiatives. WOVEN is a neutral, common ground to collaboratively organize and engineer effective solutions to violence. We believe that, provided the resources, support and appropriate platform, we can end violence on this planet. Our vision is to end violence in our lifetime.
About Diana Wege | Founder & Board Chair Wege (pronounced WEG-ee) is an artist and activist for conflict resolution and education, as well as wild lands conservancy and protection. She is currently serving on several boards including IPCNY (International Print Center New York). She co-founded the Conflict Resolution Education Fund in 1998. In 2013, she founded WOVEN after reading Randol Contrera's book, The Stickup Kids and hearing of Mary Kennedy's suicide. That same year, Wege created lithographs for advertisements in bus kiosks across New York City with the words, "REJECT VIOLENCE, REJECT VIOLENCE, REJECT VIOLENCE, REJECT VIOLENCE." She expanded the campaign to include taxi top advertisements in September 2014. Wege and WOVEN continue to create strategic anti-violence campaigns that center on providing direct communication to the people on the streets.
For more information: Contact Emily at 646.584.7846 / emily(at)wovenow(dot)org / wovenow.org