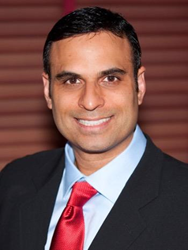 Chicago, IL (PRWEB) January 16, 2017
New patients with multiple missing teeth can now receive minimally-invasive All-on-4® dental implants near Chicago, IL from Dr. Amarik Singh, respected periodontist, without first acquiring a referral. Unlike traditional dental implants, the All-on-4 procedure combines the reliability and durability of standard implants with the convenience and affordability of dentures for a minimally-invasive, full-arch tooth replacement solution. Dr. Singh also utilizes the latest 3D Cone Beam technology to assist in guiding the implant placement process and improving the success of each case.
Patients with missing teeth in Chicago, IL who wish to receive dental implants, now have the option of having one or both of their arches restored with All-on-4 dental implants. Dr. Singh has placed over 15,000 dental implants and has a high rate of treatment success. He is proud to offer a reliable, natural-looking alternative to traditional dentures. During the procedure, four high-quality implant posts are placed into the jaw to provide support to a set of lifelike dentures. The dentures are permanently attached to the implants and do not need to be removed for cleaning purposes. Instead, patients clean and care for their implant-supported dentures as if they were natural teeth.
Dr. Singh utilizes the latest 3D Cone Beam technology, the Sirona® Galileos 3D CT scanner, to provide unparalleled guidance during the dental implant planning and placement process. The cutting-edge technology helps to enhance and improve the success of each treatment. Patients who have All-on-4 implant-supported dentures placed, with the help of the Sirona Galileos 3D CT scanner, experience shorter recovery times and improved dental functionality and appearance.
Dr. Singh, a highly-trained periodontist, encourages patients with total arch replacement needs to receive All-on-4 dental implants near Chicago, IL. Appointments can be arranged by calling Periodontal Implant Associates at 630-424-9404.
About the Doctor
Periodontal Implant Associates is a periodontal practice offering personalized dental care for patients in Oak Brook, IL and the Chicago area. After graduating from Northwestern University Dental School, Dr. Amarik Singh went on to obtain his Specialty Certificate in Periodontics and earn his Master's from Northwestern University. Dr. Singh is deeply committed to continuing education and prides himself on remaining on the cutting-edge of the newest techniques and technology in dentistry. Dr. Singh has placed over 15,000 dental implants using a minimally-invasive technique and is part of an elite group of dental professionals at the forefront of the Chao Pinhole® Surgical Technique (PST™), a revolutionary new approach to repairing gum recession. To learn more about the periodontal services available at Periodontal Implant Associates, please visit http://www.pidentists.com or call (630) 424-9404.