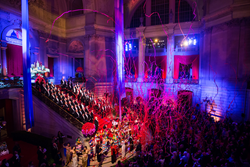 We are proud Got Light has been recognized as an international leader in event lighting design
San Francisco, CA (PRWEB) January 17, 2017
San Francisco's leading lighting design team Got Light has been named Special Events 2017 Gala Award Winners for Best Use of Lighting at the U.S. Conference of Mayors Opening Gala.
"Receiving our second consecutive Special Events Gala Award is an amazing honor," says co-owner Jon Retsky. "Over the past fifteen years, our success has been built on creatively transforming empty spaces by employing innovative solutions and designs. We are proud Got Light has been recognized as an international leader in event lighting design."
Got Light celebrates this honor with its amazing staff and crew, along with event partners Stanlee R Gatti Designs, e2k | events x entertainment and McCalls Catering & Events.
The United States Conference of Mayors' 83rd annual meeting opened with a spectacular gala at San Francisco City Hall, and closed with a Centennial Celebration on the steps outside. The Conference is an extraordinary event that brings together local and national corporate, political, civic and philanthropic leaders.
The Got Light team created an evocative design for simultaneous performances by the SFGMC – San Francisco Gay Men's Chorus, John Fogerty, Kronos Quartet, Basil Twist, Beach Blanket Babylon, and Patti Austin. Some VIP politicos included Nancy Pelosi, Willie Brown, Mayor Ed Lee, George P. Schultz, and more.
Within the rotunda, the round stage illumination changed from traditional, conventional washes of light to LED moving heads for enhanced color and energy; accent illumination highlighted existing event artwork, including pin-spot illumination of tables and decor. The unique sculptural rotunda dome was bathed in multiple layers of color and pattern.
After a series of simultaneous concerts, guests were ushered outside to Civic Center Plaza where they enjoyed a stunning light show and custom projections bathing the exterior of the historic building.
Attended by over 2500 guests, a Cocktail Reception and Dinner in the historic San Francisco City Hall kicked off the festivities, followed by the exterior performances at Civic Center Plaza. The sold-out crowd of 5,000 reveled at the outdoor festivities, featuring live music, dj, dancing, cocktails, and late-night fare.
# # #
About Got Light: Established in 2004, Got Light is the San Francisco Bay Area's leader in producing artistic lighting and event design, creating dramatic environments with light, audio, video, projection art, video mapping, drape, and staging. Visit Got Light at http://www.got-light.com.
About the Gala Awards: The Gala Awards have been given by Special Events magazine, the premier industry publication, since 1986, when the awards honored the "top 10 events of 1985." They recognize the finest work in special events worldwide. For the 2017 Gala Awards, the magazine received entries in 34 categories from nine countries: Australia, Canada, China, Germany, India, Ireland, Malaysia, the United Kingdom and the United States of America. Members of the Special Events magazine Advisory Board, made up of leaders in the event profession, reviewed all entries to determine the nominees and winners. The Gala Awards were given out on January 12th at a black-tie ceremony at The Special Event 2017 in Long Beach, California. Visit Special Events at http://www.specialevents.com.
About US Conference of Mayors: The United States Conference of Mayors is the official non-partisan organization for cities with populations of 30,000 or more. The cities are each represented by their mayor or other chief elected official. The organization sets policy as the collective voice of municipalities and their leaders. Committees and task forces develop policies that the entire body votes on before sending their resolutions to elected leaders in Washington. Visit US Conference of Mayors at http://usmayors.org.