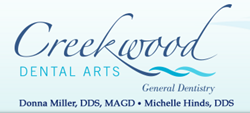 Waco, TX (PRWEB) January 16, 2017
People who need treatment for temporomandibular joint (TMJ) issues or temporomandibular joint disorder (TMD) can now visit Drs. Donna Miller and Michelle Hinds of Creekwood Dental Arts, who are currently accepting new patients with or without referrals. The doctors offer a full range of TMJ treatment options in Waco, TX from mouth guards to permanent bite adjustment. These can bring patients relief from unwanted TMD symptoms, such as jaw pain and stiffness, while also mitigating more serious health risks.
TMD can develop due to several health issues, including tooth and bite misalignment, clenching and grinding of the teeth, arthritis in the jaw joint and traumatic injury to the jaw. As it worsens, this disorder can cause many negative side effects, such as earaches and headaches, jaw pain, clicking of the jaw and pain in surrounding areas including the neck and shoulders. As a result, patients may experience difficulty chewing, lockjaw and even jaw dislocation. Fortunately, the doctors at Creekwood Dental Arts can alleviate these issues through TMJ treatment.
Using state-of-the-art technology, Drs. Miller and Hinds develop a personalized treatment plan for each patient after evaluating the factors that are causing the TMD. Some patients may benefit from having the spacing and alignment of their teeth adjusted or from receiving replacement teeth to fill in gaps. For others, the doctors may recommend laser treatment to reduce jaw joint pain and inflammation. The construction of a customized bite guard, which can prevent involuntary clenching and grinding while sleeping, may further protect patients from jaw pain and other unwanted TMD symptoms.
To schedule consultations about TMJ treatment in Waco, TX, current and prospective patients are urged to call Creekwood Dental Arts today at (254) 870-9026. Patients can also visit their website to learn more about their treatment options or to request appointments with Drs. Miller and Hinds.
About the Practice
Creekwood Dental Arts is a general dental practice offering personalized dental care to patients in Waco, TX. Drs. Donna G. Miller and Michelle Hinds provide an array of services with state of the art technology. Dr. Miller has been honored to receive The Mastership Award from the Academy of General Dentistry, the highest and most respected award in general dentistry. To learn more about Drs. Miller and Hinds or the services they offer, please visit their website at CreekwoodDentalArts.com or call (254) 870-9026 to schedule an appointment.