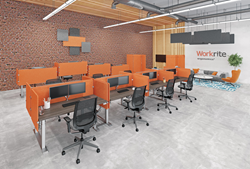 PETALUMA, CA (PRWEB) January 19, 2017
Workrite Ergonomics announced this week the launch their new Tranquility acoustic and privacy panel system.
The Tranquility privacy panel system was designed to deliver the ideal blend of acoustic and visual privacy to a collaborative office environment. Tranquility panels help reduce noise and provide the visual privacy required to maintain concentration levels and increase productivity. The tranquility privacy panel system adds the perfect finishing touch to any desk or benching system and is made from 100% recycled and recyclable materials. "With how office environments are continually changing we wanted to create a solution that supports the needs of the modern workplace, while not compromising worker productivity." said Darren Hulsey, Product Manager for Workrite Ergonomics. "We created a modular privacy panel system that supports a collaborative environment, and also delivers superior acoustic and visual privacy."
The Tranquility privacy panel system was designed in collaboration with BuzziSpace and is flexible and easy to use regardless of your office configuration. Tranquility panel system hardware accessories allow for popular mounting applications including on a desk, wall, ceiling or as Shoji Privacy screens. The system hardware and privacy panels can be used and re-used in countless configurations without damage to the panels themselves. Tranquility privacy panels are available in PET felt or Wool Blend Fabric and carry a GreenGuard Gold certification.
"As business needs change and offices are reconfigured, our Tranquility panels will easily adapt with you." said Workrite's President, Charlie Lawrence. "Organizations no longer have to choose between creating collaborative work environments and worker productivity."
"Workrite focuses on delivering world class ergonomic products that solve not only the challenges of today, but futureproof organizations for the workplace of tomorrow", said Lawrence, "and the Tranquility privacy panel system offers organizations an incredible value backed by the industry leading quality and service that Workrite has provided for over 25 years."
About Workrite Ergonomics, LLC
Workrite Ergonomics was founded in 1991 and is an internationally recognized industry leader in design, manufacturing and distribution of height-adjustable workcenters and ergonomic office accessories. The company is based in Petaluma, California and is represented across the United States and Canada by a broad network of highly professional sales associates. For more information on Workrite Ergonomics' products, please visit http://www.workriteergo.com.