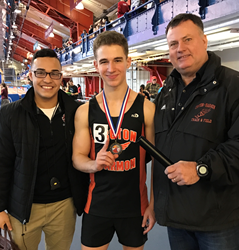 Truly impressive that Thorne has become the fastest man in the league as a freshman
New York, NY (PRWEB) January 19, 2017
Jackson Thorne was crowned New York Section 1 League 3A Champion in the 55-meter dash, clinching the title as the league's fastest man with a blazing sprint on Sunday at the Armory Track & Field Center in New York City. The fast freshman put together an impressive show to conquer the field of varsity athletes from high schools across the New York region including Westchester, Rockland, Dutchess, and Putnam. Thorne, who turned 15 only last month, is a freshman at Croton-Harmon High School. Though several finalists got off to quick starts on Sunday afternoon and intended to challenge the freshman phenom, Thorne hit his stride early in the race, shifting into high gear and leaving so much distance that he was able to cruise across the finish line ahead of the pack. It was another stunning performance for one of the most electrifying freshman athletes in the region.
Croton-Harmon High School is celebrating three track stars who earned All-League titles by winning their events at this year's New York Section 1 League 3A Championship: George Zakharov in the Pole Vault, Tatiana Zakharov in the High Jump, and Thorne in the 55-meter Dash.
Despite his youth as a freshman, Thorne has certainly shown that he can compete at the varsity level by becoming League Champion in his first year. Thorne's victory makes him one of the youngest athletes in the state to become a league champion in his event.
Thorne was seeded favorably in the race after winning his qualifying heat earlier in the day, earning him a center lane position for the finals. Finishing in the runner-up spot was Eric Nieves of Westlake, followed by bronze medalist Kane Lyons of Westlake, both delivering respectable performances. Claiming the remaining spots in the league finals were Mike Rigney and Michael Yip of Briarcliff, Steven Thelliyanka and Andrew Zambrano of Valhalla, and Lee Gelfand of Briarcliff.
The league's fastest young man and his teammates will return to the Armory Track & Field Center to compete in the State Championship qualifier next month.