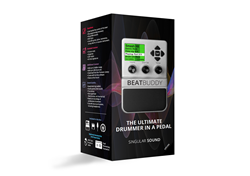 As a Company, we are committed to continued innovation in the music technology space and are excited about our product pipeline that fulfills our mission to make all musicians greater by empowering them to express their unique sound.
Anaheim, CALIF. (PRWEB) January 18, 2017
NATIONAL ASSOCIATION OF MUSIC MERCHANTS SHOW – Singular Sound, the music technology company and manufacturer of the world's first pedal-controlled drum machine, the BeatBuddy, today announced the release of several new hardware and software products for 2017.
The music technology start-up launched in 2014 with the award winning, hands-free, BeatBuddy pedal-controlled drum machine. The BeatBuddy provides musicians with full, hands-free, creative control of the beat, creating a live drummer sound with the ease of a guitar pedal format.
By pressing the pedal, a musician can start a beat, insert fills, transition from verse to chorus, throw in drum breaks and trigger accent hits such as handclaps or cymbal crashes. The BeatBuddy can store up to 3 million songs and comes preloaded with 22 music genres and 10 different drum kits, allowing users to play everything from jazz to heavy metal.
Singular Sound has now developed additional hardware and software based products to enhance its customer user experience with the BeatBuddy:

StreetVolt Busker Battery Pack was designed for street musicians and BeatBuddy users who require the mobile use of a pedal-controlled drum machine without the need to be plugged into a wall outlet. The StreetVolt prototype will be on display at NAMM and will be available for purchase March 2017.
BeatBuddy Manager 2.0 is an upgrade to the software component of the BeatBuddy that allows users to upload their own beats, modify songs and download community created songs and drum sets. The BeatBuddy Manager 2.0 was developed to address customer feedback on the initial product and will provide a seamless user experience. Users will have the ability to directly share their content and download Premium Library albums within the BeatBuddy Manager with one click. Available for free download February 2017.
Premium Library Volume I & II: Singular Sound will now offer customers the convenience of purchasing its Premium Library songs and drum set in volumes on an SD card rather than downloading individual beats from the Company's digital library. Customers will receive between 150-200 songs on each SD card album and will be able to plug, play and jam immediately, eliminating the download process. Available March 2017.
"We are extremely proud of the market success the BeatBuddy has enjoyed and have spent the last several years engaging in vigorous 'voice of the customer' research and development," said David Packouz, CEO and Founder of Singular Sound. "As a Company, we are committed to continued innovation in the music technology space and are excited about our product pipeline that fulfills our mission to make all musicians greater by empowering them to express their unique sound."
About Singular Sound: It started with a simple idea to make a new class of drum machine. Founded in 2012, Singular Sound is the originator of the BeatBuddy pedal-controlled drum machines: tools to enable hands-free command of the world's most authentic beats, while playing and performing with any musical instrument. The BeatBuddy has received every major recognition in the musical instrument industry, including Guitar World's Platinum Award for Excellence, induction into Guitar Player's Hall of Fame and the industry's highest honor by the National Association of Music Merchants. The technology behind Singular Sound's products is complex, but the mission is simple: to make all musicians greater by empowering them to express their unique sound. For more information, please visit: http://www.singularsound.com
# # #